1997.05.28
projects
5. Parkway Interrotta
...the Berlin Science Center, as well as Wallraf-Richartz Museum and Florence and Bayer--all projects by Stirling/Wilford-- have clearly influenced the Parkway Interpolation design. I wonder if I want to admit this publicly right now. It might actually be fun. Of course, there is also the Plecnik Houses under a Common Roof reference, but the overriding influence is Stirling and this may actually tie into the Giurgola connection (the importation of Stirling into the Philadelphia area), plus I also just thought of the relation of Tredyffrin Public Library to the south museum plaza building group.
6. Philadelphia as a Mitchell/Giurgola museum


2005.03.15
notes
1. ...an exhibit of Giurgola free standing facades--Columbia HS, PennMutual, Tredeffrin Library, Columbia Univ., Princeton (replaced by VSBA), Australia, and the United Way--as "proto" (except for Kahn "wrapping ruins around buildings @ Exeter).
3. do a full reenactment trail before and after Kahn's Media convent. Luckily, my thesis comes before Gehry's Winton Guest House. ...including the precedents I presented at thesis.


2006.03.02 13:50
Thesis Semester [blog] 25 years ago
In a very nice way, Hal Guida is also responsible for V's building being turned around. I told V he has to go see Tredyffrin Public Library by Mitchell/Giurgola Architects, 1976, of which I think Hal Guida was the project architect. As a result, one afternoon in late winter/early spring V, D and myself took a ride in V's Jeep out through Bryn Mawr to Tredyffrin. The curved side of Tredyffrin Public Library faces the landscape while its flat side faces the parking lot. D had never been to Tredyffrin before either.
Hal, Tredyffrin Public Library still looks really good, and the spiral playground off to the side is still there, or at least it was still there in 2001.



2014.02.25 21:36
Mt. Angel Abbey Library by Alvar Aalto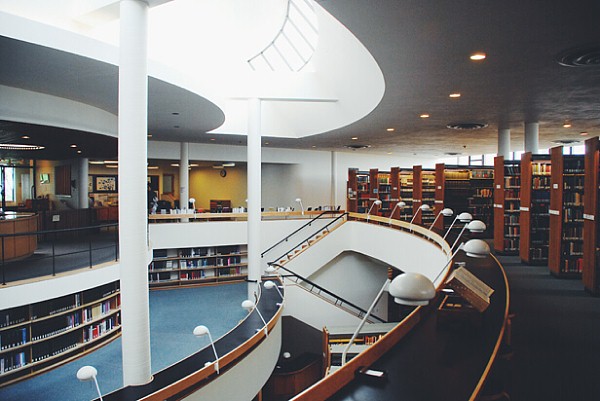 Aalto's Mt. Angel Abbey library design had an immediate (reenactionary) effect on "the Philadelphia School." The same year the plan was published, 1965, Venturi and Rauch in collaboration with Gerod Clark submitted a design for the Berkeley Museum of Art Gallery Competition--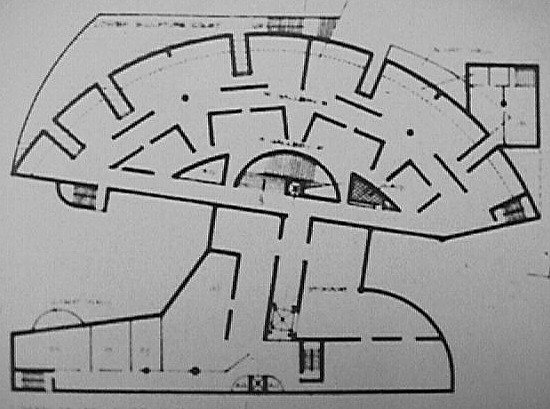 --and in 1966 Mitchell/Giurgola Architects developed a design for the William Jeanes Memorial Library--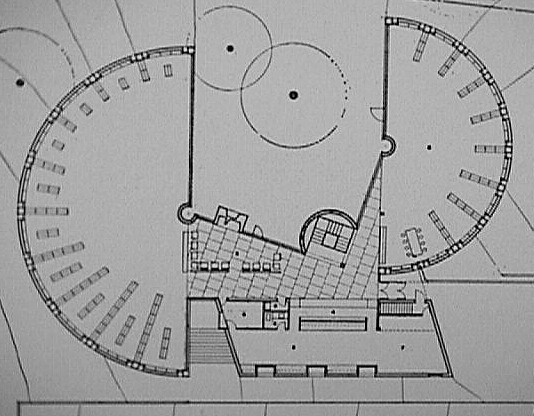 Both designs were not built.

Seeing the image above, the Northeast Regional branch of the Free Library of Philadelphia, by Geddes, Brecher, Qualls & Cunningham (I think) is the Aalto building section rendered orthagonally in a rectangular box.

Eventually, Mitchell/Giurgola Architects did design and build a library that is very much a tribute to Aalto--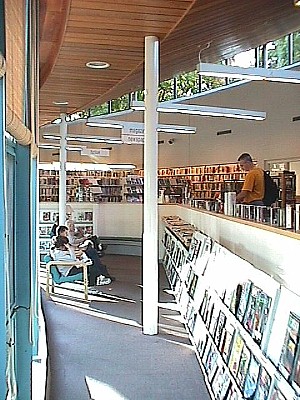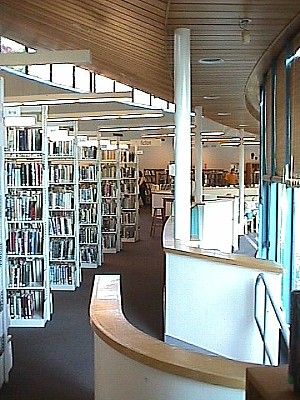 --Tredyffrin Public Library, 1976