1998.11.15 21:33
first virtual house of the 20th century


1998.11.16
first virtual house of the 20th century
...the minimal aspects of the design.
I still have to review Venturi's latest texts regarding virtual architecture and wireframes.


1999.11.09 10:28
reenactment
The evocation of Serlio's 'street scenes' is indeed apt--the notion of stage set is very much part of reenactment, i.e., the place upon which and within which to 'act' again (and again). For the record, Serlio drew three scenes, the third, Scena Rustica or Scena Satirica, is all natural/naturalistic (proto-primitive hut? or proto-romanticism?).
While reenactment certainly necessitates a contextual understanding, reenactment as a design paradigm is nonetheless not necessarily site specific. For example, theme parks everywhere are for the most part far removed for the 'actual' themes they reenact. On the other hand, the reenactments within Venturi (Rauch) and Scott Brown's Franklin Court (Philadelphia), Western Plaza (Washington D.C.) and Welcome Park (Philadelphia) relate directly to their respective sites/environments. Reenactment then can (and indeed does) have it both ways in terms of context.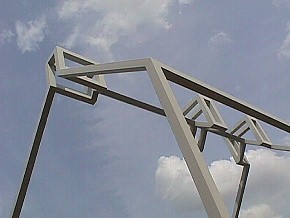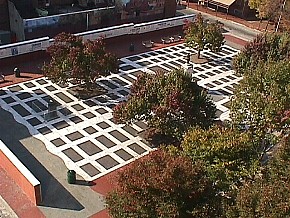 As to the "problem" of "exciting ideas" never getting developed due to being brightly spotlighted and then quickly moved on from, perhaps this 'trendy' behavior too is a form of reenactment, that is, a repetitious renewal, the continual process of putting on a new hat, but always putting on a hat nonetheless.
The best philosophy I've read so far that purports reenactment is within Collingwood's The Idea of History. Collingwood is much influenced by Croce, and Croce is much influenced by Vico.
When I first began to redraw Piranesi's Campo Marzio using CAD, I was doing so to get as close to Piranesi as possible; essentially, I was reenacting his act of drawing as best I could. For me, this exercise, this reenactment, has provided enormous insight albeit it took several years of continual work for this vision to develop. I am certainly not Piranesi, nor do I contend to possess his superior creative talent and imagination, but I deliberately attempted to do some of the same things he has done, and in so doing I honestly believe I removed several degrees of separation. Perhaps reenactments then are always a play with degrees of separation, sometimes seeing how close one can get to the 'original' and/or sometimes seeing how far one can "stretch the truth," to name the extreme cases.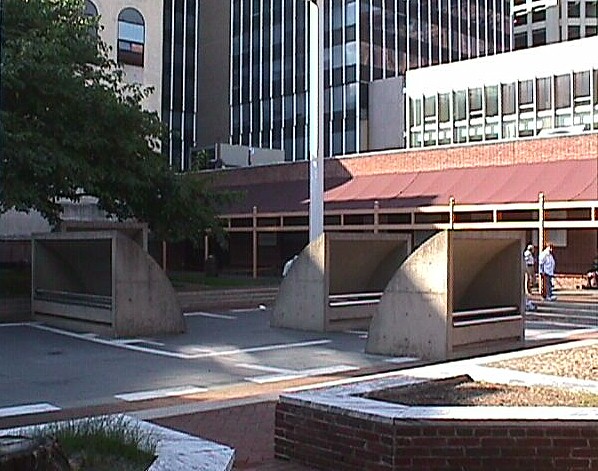 2000.03.06
reenactment in Philadelphia
1. the Merchant Exchange and the choragic monument in Athens--this also relates to Schinkel's...
2. Strickland's Second Bank of the US and the Pantheon (and hence the model for many subsequent American banks).
3. Girard College as a "true" Corinthian temple.
4. B.F.Parkway as the Champs Elysee/Place de la Concorde.
5. the 2nd Street church tower reenacting City Hall tower--also the church on south 22nd street?
6. the Art Museum on Fairmont reenacting the Athenian acropolis.
7. Franklin Court.
8. Welcome Park.
10. cardo and decumanus.
11. Guild House reenacting Ahavath Synagogue.


2000.09.03
history of hypersurface architecture in Philadelphia
...plus maybe a "history of hypersurface architecture" in Philadelphia, e.g., the force-field of St. Francis de Sales Church; Institute for Scientific Information; Franklin Court; Welcome Park; and also the work of Kahn: Congregation Ahavath Israel, Alfred Newton Richards Medical Research Building and Biology Building, City Tower; [and also Giurgola's United Fund Headquarters;] and perhaps the best hypersurface of Philadelphia architecture, the work of Frank Furness, particularly the half castle bank facade (and this leads to Sullivan as a tangent).


2001.02.19
museum collecting
04. Arts and Crafts Museum
07. Kimbell (barely)
14. Ryerss Museum
15. Franklin Court
16. Philadelphia as a museum of architecture


2001.03.10 10:48
Re: George Washington's Presidential...
I recently read four chapters on the 'preservation' of 'historic' Philadelphia (temporary capital of the United States 1790-1800) in L. Mumford's Highway and the City. I actually found out about these texts from John Young vis-à-vis 'talk' about reenactment and "re" words. It seems that Mumford was lecturing at the University of Pennsylvania in the late 1940s and that was when the historic districts around Independence Hall (actually the Pennsylvania State House) were being newly planned and 'preserved'. I was surprised at how unprecedented American historic preservation was at that time, and then how the preservation actions taken in Philadelphia in turn set America's historic preservation precedents and standards. Growing up in Philadelphia in the 1960s and going to architecture school here in the 1970s (the Bicentennial and all that, like Legionnaire's Disease) made one hyper aware of historic preservation; I didn't think then at how 'new' it all was.
Another interesting factor I found out is that half of Philadelphia's historic district is run by the Federal government and half is run by the State of Pennsylvania--I'm pretty sure Independence Hall is still owned by Pennsylvania, and the ruins of the Morris House are within the part run by Pennsylvania as well.
Like Franklin Court (a few blocks away) designed by Venturi and Rauch in the early 1970s, the Robert Morris House is just another example of Philadelphia's great collection of premiere virtual houses.
You'd think I'd seen it all here too many times already, but the truth is that with each recent visit to Philadelphia's Historic National Park (the area run by the Federal government) I become more impressed by it each time I'm there. Maybe it's because I'm getting older myself and like to see things that endure time, but I also think it's because a nice job was done in the first place. Independence Mall (the area run by Pennsylvania) was oddly dear to me as well, even though most didn't like it because it really was lifeless, thus it is now being redone. Maybe the best plan for the Mall now is for it to be redone every twenty years or so--American [metabolic] Dreaming at its best?


2001.08.09
The Idea of History, etc.
2002.11.20 12:17
Ben Franklin, etc.
Franklin Court Museum and Park, 1972-76, [the first virtual house of the 20th century] is the work of Venturi and Rauch Architects, not Venturi, Rauch and Scott Brown, as R stated. Venturi, Rauch and Scott Brown did not become an entity until 1980.
The next museum on the Benjamin Franklin Parkway, Philadelphia will be the Alexander Calder Museum, with Tadeo Ando as design architect and MGA [the quondam Mitchell/Giurgola Associates, Philadelphia office] as architects of record. The site of the new museum is across the Parkway from the Rodin Museum.


2006.01.04 16:53
BobandDenise, etc.
The Mansion morphed into a museum circa 1920 (Zantzinger, Borie & Medary Architects) and is now what I like to call "a museum of someone's shopping," hence "Venturi Shops" 100 years ago. What I like about Ryerss Museum is its further adding of (Philadelphia) context to some of VSB's work.
...because VSBA architecture has long been an antidote to "chromophobia."
...in 1998 I came to the realization that Franklin Court is unwittingly the first virtual house of the 20th century. In the mid-1990's there were several 'avant-garde' architects making much ado about designing a virtual house, yet no one then realized that a real "virtual house" had been already designed and built 20 years earlier!
I'm interested in aspects of VSBA architecture that are outside of the common analysis...
While I'm doing "virtual" architecture via web sites, I'm then also always designing (on) a screen, which I see very much in tandem with "Iconography and Electronics upon a Generic Architecture."


2006.03.10 12:03
Thesis Semester [blog] 25 years ago
Hal told R, on the subway on the way to a Giurgola(?) lecture at Penn, "It's [my mid-term design] a bit too facile." Hal told me it wasn't Philadelphian enough. Thus, for part of Spring Break I'm going to go around and look at notable Philadelphia buildings. I think Hal was also saying my design was a little too much something other than Philadelphian. I distinctly remember going to see the Richard's Medical Buildings, and for some reason the Merchant Exchange impressed me the most.
Did I also visit Franklin Court? Since I remember Hal and I talking about it--it is mostly an underground museum after all--I guess I did go there. I especially remember how much Hal admired the "Franklin - Man of Infinite Dimension" room and how the reverse lettered neon was then correctly read in the mirrors. I took pictures of just that phenomenon 21 November 1998, for sure thinking of Hal while I did so.


2006.08.26 11:55
Try This in One High-Profile Memorial: Honor America's First White House, Acknowledge the Stain of Slavery
"America's First Executive Mansion" is probably a more appropriate description of the Morris House than "America's First White House."
Philadelphia has such great quondam places. And what a great place for reenactionary architecturism! Like isn't the Kelly/Maiello scheme a design reenactment of Venturi & Rauch's reenactionary Franklin Court?


2008.05.29 09:27
Can you say canonical?
"...you might like to know that Ten Canonical Buildings: 1950-2000 will be released on June 24, 2008.
Peter Eisenman, renowned for his own controversial and influential body of work, looks at ten leading architects of the twentieth century and their theoretical positions, technological innovations, and design contributions. Eisenman identifies a project within the oeuvre of each of these architects—Luigi Moretti, Ludwig Mies van der Rohe, Le Corbusier, Louis Kahn, Robert Venturi, James Stirling, Aldo Rossi, Rem Koolhaas, Daniel Libeskind, and Frank Gehry—that has profoundly affected architectural discourse and practice. With drawings, diagrams, and always-incisive text, he presents each architect's theoretical position, and then offers detailed critical analysis of the project."
Any guess what the 10 buildings might be? Your own picks?
Moretti: Casa del Girasole (Eisenman)
Mies: Seagrams Building (Eisenman)
Le Corbusier: Palais des Congrès (me)
Le Corbusier: Olivetti Center Milan (me)
Kahn: Dominican Sisters Convent (me)
Venturi & Rauch: Franklin Court (me)
Stirling: Leicester Engineering (Eisenman, "Real and English")
Stirling: Nordrhein/Westfalen Museum (me)
Stirling: Wallraf-Richartz Museum (me)
Rossi: Modena Cemetery (Eisenman)
Koolhaas: Patent Office (me)
Libeskind: who cares (me)
Gehry: Wagner Residence and other residences of that era (me, just to be a bit obscure)