My thoughts for Eclectic Shock were all about the recombinant architectures stuff. I suppose that's the point, but I'd like good shock to be involved as well.

Actually "Going into Eclectic Shock" was/is going to be about my recombinant architectures, so either it all somehow comes together or it begins to interfere, or contradict. [2009.04.07: eclectic shock could deal with mixing/recombining architectures from different eras into new wholes.]


Zany House 001 2248
1983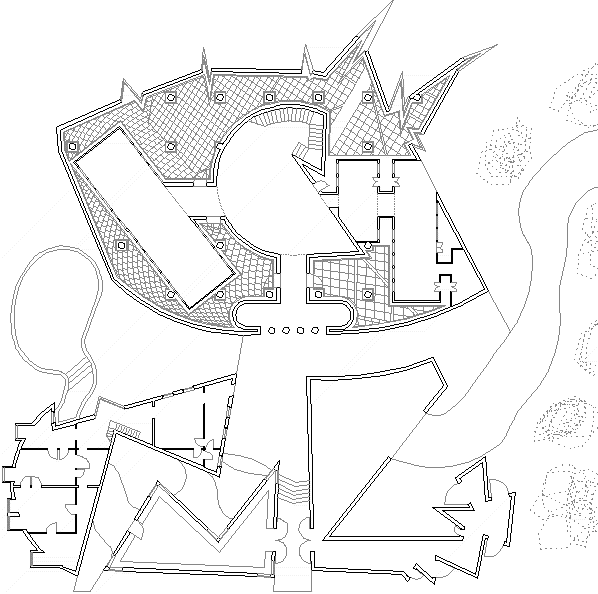 2007.07.03 16:44
hejduk?
Just got a 1823 edition of Durand's Précis des leçons d'architecture this past Saturday, and seeing it now next to Hejduk's books inspires a comparative reenactionary analysis.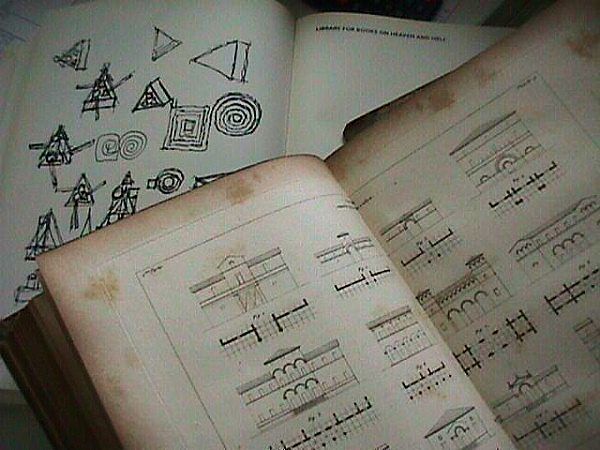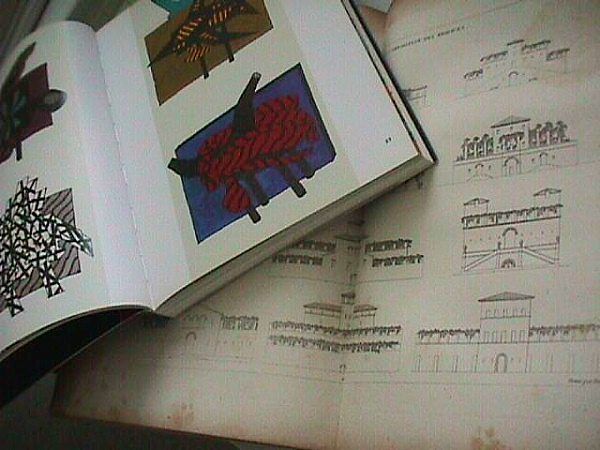 J. L. N. Durand
1760.09.18 - 1834.12.31
John Quentin Hejduk
1929.07.19 - 2000.07.03
2007.07.06 10:17
Bach and architecture
Is there here the suggestion that OMA (unwittingly?) hyper-reenacts Barock musik composition?
see the "Patent Office" within Content:
"Social Condenser" (1982)
"Strategy of the Void I" (planning) (1987)
"Timed Erasures" (1991)
"Loop-Trick" (1987)
"Strategy of the Void II" (building) (1989)
"Stacked Freedoms" (1989)
"Inside-Outside City" (1993)
"Disconnect" (1994)
"Everywhere and Nowhere" (1994)
Variable-Speed Museum" 1995)
"Inert Modified" (1997)
Tall & Slender (1996)
Skyscraper Loop (2002)
"Cake-Tin Architecture" (2002)
"End of the Road" (2003)


2007.10.03 08:16
thesis
I suggest you pursue all three topics in one--a marine architecture hi tech airport designed to make everyone feel like they're on stage. Throughout this great hybrid machine of notoriety are virtually infinite opportunities to globally link oneself.


2008.05.15 20:48
The Official Paradigm Shift thread
multiple choice (so far):
1. typical plan meets eclectic program
2. eclectic plan meets typical program
3. programmatic planning meets typical eclecticism
4. planned eclecticism meets programmatic type


2008.10.05 11:20
Mixing Design Elements of Different Style Homes-Your Opinion
There's really nothing stopping you from mixing whatever you want. Unless, of course, you wear your education like a Playtex girdle.
I try to go into eclectic shock/therapy at least once a week. Recently 2398 and 2399.
And I've been going into eclectic shock/therapy for 25 years now.


2008.12.31 09:38
pragmatists turning political?
The concluding 'Architecture' section of Aureli's "Toward the Archipelago" begins with:
"Let's immediately state that today's iconic building--the building that affirms its own singular presence through the appearance of its image, and that today constitutes one of the primary expressions of architectural culture at the scale of the city--cannot be a valid part of the city. Putting aside moral problems, issues of taste, and the gratuitous character of their forms, the iconic building cannot be considered an exemplary part of the city because its economic principle is to be unique and nonrepeatable."
This may well be what spurred Zaera-Polo's "The Politics of the Envelope".
[What works for me is] Mixing Aureli's "The political ... indicates the possibility of conflict and as such calls for its resolution" and Zaera-Polo's "For architecture ... to convey that tendencies in the articulation of the building envelope capture the new political affects, to communicate that certain manipulations of the ground and the roof indicate the politicization of nature, or to explain the breakdown of the correlation between interior and exterior and private and public, are legitimate political performances."
Are ZP's categories of the envelope an attempt at repeatable icons?
ricochet:
brise-soleil: the politics of sun breaking
--Le Corbusier
--Kahn at Philadelphia Psychiatric
--Venturi at Frankfurt Arts & Crafts
houses under a common/detached roof
-- Plecnik
-- Le Corbusier
-- Krier at La Villette
osmotic architecture
-- Pantheon
--Versailles Hall of Mirrors
-- Altes Museum
-- Kimball Art Museum
hyper envelopes of UnStudio
--Arnheim Central
--Architecture Faculty Venice
--Music Faculty Graz