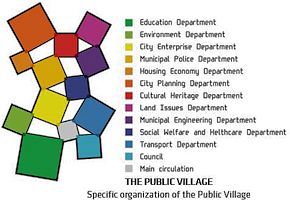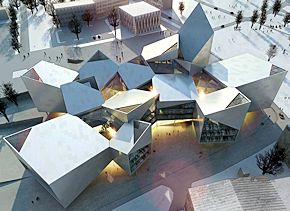 BIG Tallinn Town Hall 2008


2008.09.28 13:05
How can a building be 'critical'?
[sic]
To ERr with SuperGlue
[Appositions]
Bilocation Syndrome
Going into Eclectic Shock/Therapy
Surgical Double Theater
Waiting Room: Anxious, Reading, Liszt
Operation a Success; Patient Dead
Malpractice Case: Houses
Eternal Wrest
chapters of Architecture in Critical Condition


2008.11.13
appositional architecture
On 2002.02.03 I wrote a note regarding "appositional art" and also the notion of wqc/appositions, but concluded with not being sure what appositional architecture is. It now seems that I do know what appositional architecture is, and I've been doing it via the "recombinant architecture" and Ichnographia Quondam, and even the first two Houses for Otto, House of Ill-Repute 001, Le Composites, Cut & Paste Museum, etc. I can at least collect/list all the examples of "appositional architecture" at Quondam, and outline a display of the work.
Sober House 1
Analogous Building
Ur-Ottopia House
Maison Millennium 001
Palace of Ottopia
Haus der Kunst
House of Ill-Repute 001
Mosque Q
Sober House 2
Dominican Villa Savoye
House of Shadows Bye
Stoner Food Restaurant
Hurva Dormitories
Gooding Trice House
Gooding Trice Villa
Le Composites
Trivilla Savoye
Cut & Paste Museum
Ichnographia Quondam
Palais House 10: Museum
Headquarters of D.A.T.A.
Villa Plus Ultra
Courthouse Plus Ultra
There seems to be a thin line between appositional (architecture) and superimpositional (architecture), yet the 3-dimensional nature of architecture actually can simultaneously accommodate apposition and superimposition. For example, the HQ of DATA is appositional in elevation and superimpositional in plan. I like this interesting double aspect that architecture can facilitate (and I wonder if this could be part of "Surgical Double Theater").
Actually "Going into Eclectic Shock" was/is going to be about my recombinant architectures, so either it all somehow comes together or it begins to interfere, or contradict. [2009.04.07: eclectic shock could deal with mixing/recombining architectures from different era into new wholes.] Is appositional architecture and superimpositional architecture somehow going to be the overriding aspect/motif of AinCC?
2009.01.29
Lost's ending
I now suspect, after seeing the third episode of Lost season 5 last night, that Lost will end with all of its original cast alive and together. This is how I see the current time traveling coming to a conclusion. It will be like Finnegans Wake and like Il Campo Marzio. Too bad Bloomer didn't make this vital connection.
So now it's exploration of the possibilities of the space-time continuum. Like Proust was a neuroscientist, was Piranesi, with the Ichnographia Campus Martius, a scientist of the fourth dimension? (Here is where I have to review Dixon's "Ichnographia as Uchronia".) IS IQ also a study/experiment of architecture (and urbanism) in the fourth dimension? For IQ the time continuum connection is the Axis of Life/Parkway connection, which comes after Piranesi's own Porticus Neronianus/St. Peters connection.
Are the recombinant, appositional buildings of Quondam studies/experiments of architecture in the space/time continuum? Is that what they always have been? (Here is perhaps where I reread Geometry, Relativity and the Fourth Dimension.)
And what of The Odds of Ottopia? Did it all have a sense that even I did not fully understand? Bilocation was a significant part of the story. A step beyond Theatrics Times Two? What is Bilocation2 or Bilocation3, etc.--the studies of further powers within 2 = odd.
Quondam and Museumpeace as bilocation theaters? And all my posting activity over the last 12 years as writing / existing within the continuum as opposed to just within reality itself. Just looking now at the Virtual Domain collages I again see an architecture within the space-time continuum--the theme is widely present throughout my work, and I can now see on what foundation my further work rests. Is Quondam (and Museumpeace getting there) impenetrable because of its space-time existence? its slippages in and out of various time frames? (Do I write a comment at things.net?)
This is a great note because a breakthrough into understanding my (design) work is abundantly more clear. There is much here for me to elaborate on further, and I could formerly write about what Quondam is all about and indeed explain my work as a further approach to architecture. Does this also explain my further approach to art?
And now, before I go to read Dixon's text (Uchronia), I'll end by mentioning that I now have to think about the relationship of reenactionary architecturism to traveling in the space-time continuum.


2009.07.02 Savoye Shadows Annexation
2009.07.02 Villa + 15
2009 Basel Burghof
2009 Barranca Museum of Modern and Contemporary Art


2009.10.01 11:31
Information Architects Talking About Architects and Architecture
Looks like there's now no denying that there are architects and there are appositional architects.
2009.10.06 15:59
Examples of modern exterior with traditional interior
somewhat akin to the Getty...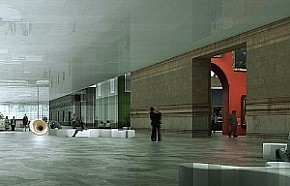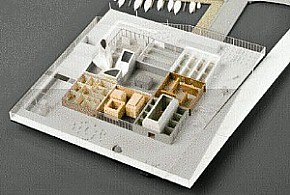 REX, Munch Museum, 2009
The compartmentalized approach leads to any number of mix-up possibilities.
otherwise...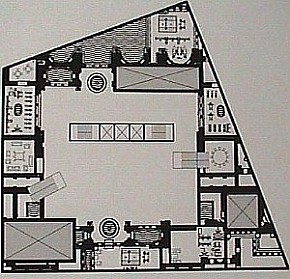 Level 1: lobby, bar. restaurant, spa, fitness, banquet rooms. OMA and Herzog & de Meuron, Hotel Astor Place, 1999.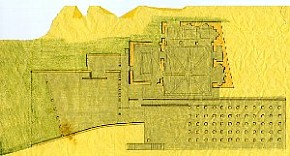 SL, Mayor's House, 1990.
2009.11.20 11:50
The Great Books (of Architecture)
The Decline of the Whiskey Empire
Eutropian Theories
Voodoo Valley, 19120
buildings that move(d)
Apostate Architecture
Kissing That Reality Good-bye
The Last Great Pagan Architecture of Rome
Uninhibited Habitations
Architecture of the Divided States of America
Appositional Architecture
Rita Novel This Sontag


2010.08.17 08:46
So, How's Architecture These Days?
An excursus between 'Bilocation Syndrome' and 'Going into Eclectic Shock/Therapy':
1762 Ichnographia Campus Martius
1960-65 Eleanor Donnelly Erdman Hall
1960-67 Dr. and Mrs. Norman Fisher House
1965-69 Dominican Motherhouse of St. Catherine de Ricci
1977 UNEP Headquarters
1979 Kasperson Residence
1979 Wissenschaftzentrum
1980 The Long Gallery House
1981 Institute of Contemporary Art
1982 Cooper & Pratt House
1982-87 Winton Guest House
1993 Wacko House 002
1993 Sober House 1
1999 Infringement Complex
2001 Ten Zen Men
2001 Room with a View
2002 NATO Headquarters
2006 Parrish Art Museum
2007 Hurva Dormitories
2007 Gooding Trice House
2007 Trivilla Savoye
2008 Hospice Søndergård
2008 Art Souq
2009 Basel Burghof


2011.06.15
otherwise/appositions



Louis I. Kahn, Erdman Hall (Bryn Mawr, PA: 1960-65), plan.