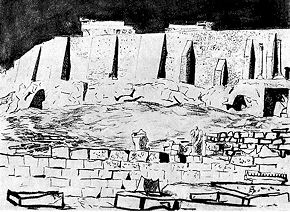 Acropolis, Athens. Drawing, 1951.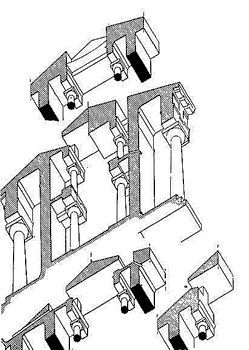 August Choisy. Axonometric section of a Greek temple.
So at Rochester Design brings Form materially alive. The entrance lobby, the library, the women's workroom, and the stairs want spaces differing from those of the classrooms, and they get them; but what might be called the psychic presence of the original Form is always felt, so linking the specific to a general Order. Then comes Light, and through it the wall now becomes wholly, three-dimensionally, alive. It does so, typically, through Kahn's unappeasably wondering consideration of its most intense meaning for the interior spaces: to admit light to them and to shelter them from light. So at Rochester the walls go deep back to give the windows glare-dimming reveals, and step out to provide window-seat spaces, lighted from the sides. The whole wall, inside and out, is plastic with light, with what a window "wants to be." At the same time, its expression is deeply structural, a buttressed mass. Above the exterior walls rise the four hoods pulled back above the corners of the central meeting space and scooping out its hollow with light. They took position there after many other schemes were tried, in all of which Kahn had attempted, as noted in other projects, to articulate the main span into several spatial units. Now four columns support two cross beams from which the ceiling slabs gently lift toward the voids formed by the hoods, placed where they are partly because they are more easily supported near the corners. Kahn's structural isometric here, done from below in bard lines, again recalls Choisy. Wright's Unity, Church of 1906 is also recalled in the fortresslike exterior, the crossed beams and the top light, but at Rochester the spaces are entirely different, again separate from each other rather than interwoven, and the units of structure have become large in size. Wright, for continuity, uses interwoven overhangs; Kahn, to define, in contrast, a sharp-edged mass, has designed terra-cotta copings for his walls.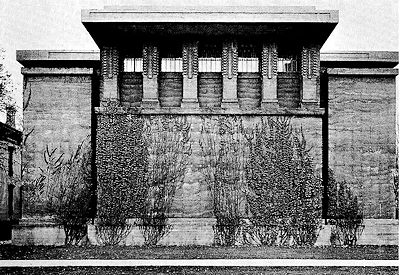 Frank Lloyd Wright. Unity Church, Oak Park, Illinois, 1906.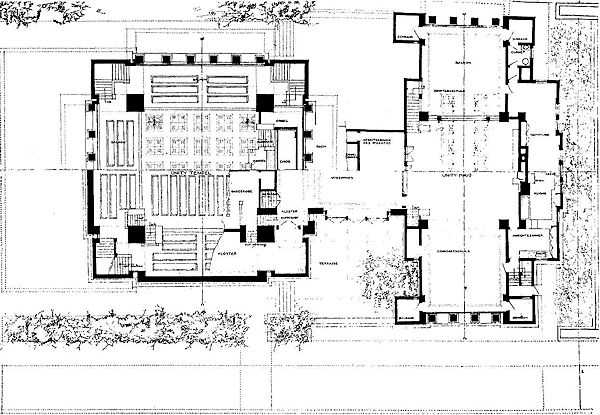 Unity Church. Plan.