In the Fleisher House project of 1959 Kahn's sense of space, structure, and light opened up the round arch for him once more. The plan, unlike that of the Goldenberg project though in study at the same time, remains basically symmetrical, because here it is purely the spacestructural Order which suggests and finally dominates the Design. These are spatial units, made of bearing masonry walls with pre-cast arched caps set upon them. Some of the arches are glazed, others bricked, some open. The rectangular walls rise higher than eye height, though sometimes cut into by small voids for view, and a taut volume of air and light expands above them. Le Corbusier's vaulted projects of the fifties are recalled, but most of all the Mediterranean tradition behind them, as the arches touch lightly upon their supports, seemingly held up, like some of Hadrian's, by the very atmosphere they define. The rounded void with a slot below can also be found at Roman Ostia, visited by Kahn in 1950.


Fleisher House. Model. Entrance side.




Fleisher House. Model. Garden side.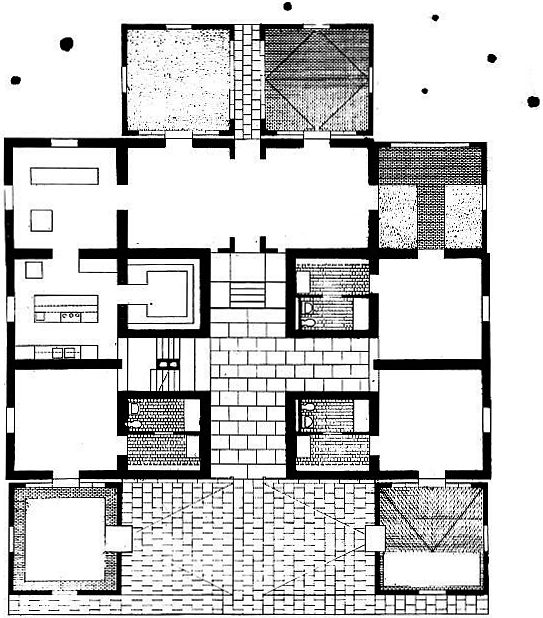 Fleisher House, Elkins Park, Pennsylvania, project, 1959. Plan.