George Basevi
architect.
Basevi entered the office of Sir John Soane in 1810. In 1818 he went to Italy for three years. In 1825 he disigned Belgrave Square, London, and in 1835 the Fitzwilliam Museum, Cambridge. With Sidney Smirke he built the conservative club in Pall Mall, London. Basevi was killed by a fall from a scaffold while inspecting the tower of Ely Cathedral.


John Frazee
sculptor; b. July 18, 1790; d. February 24, 1852.
Frazee was first employed as a stonecutter in Haverstraw, New York. He afterward, with Launitz, opened a marble yard on Broadway, New York City. His mantelpieces, monuments, and the like were remarkable for beauty of workmanship, especially in the lettering. His name is cut on the architrave of a window in the northern front of the old Customhouse, now the Subtreasury Building, in New York. He did not design the building, however, but superintended its construction.


Charles Pierre Gourlier
architect; b. May 15, 1786; d. February 16, 1857.
A pupil of Alavoine and Huyot. In association with Biet, Grillon, and Tardieu he published Choix d'édifices projetés et construits en France dupuis le commencement du XIX siècle (Paris, 1825- 1850, 3 vols, folio) and Des voies publiques et des habitations particulières, Paris, 1852, 8vo.


Jacques Ignace Hittorff
architect; b. August 20, 1793; d. March 25, 1867.
Hittorff was born at Cologne and naturalized as a French citizen. He was a pupil of Charles Percier. Between 1819 and 1823 he visited England, Germany, Italy, and Sicily. After 1825 he built with Lepère the church of S. Vincent de Paul, Paris. About 1831 he was architect of the Parisian prisons. In 1833, as the result of a competition, he was made architect of the Place de la Concorde, the Champs Êlysées, and the Place de l'Étoile. In the Place de la Concorde he built the pedestal of the obelisk, placed the statues of the cities of France, and completed the decoration, lamps, fountains, etc. From 1844 to 1866 Hittorff was architect of the Column of the Place Vendôme, Paris. The Neo Grec movement received much help from him; and the church of S. Vincent de Paul is often spoken of as a monument of the style. In 1864 he was made general inspector of the Conseil des bâtiment civils. He won a first-class medal at the exposition of 1855. In association with Zanth (below), Hittorff published Architecture Moderne de la Sicile (one vol. folio, Paris, 1835), and Architecture Antique de la Sicile, recueil des monuments de Ségeste et de Sélinonte (text one vol. 4to, plates one vol. folio, Paris, 1870). He published alone Restitution du Temple d'Empedocle à Sélinonte; ou l'Architecture polychrome chez les Grecs (text 4to, atlas folio, Paris, 1851).


Louis Tullius Joachim Visconti
architect; b. February 11, 1791 (at Rome); d. December 29, 1853.
A son of Ennius Quirinus Visconti, the archaeologist, who came to Paris in 1798. Between 1808 and 1817 Louis studied architecture at the Ecole des Beaux Arts and with Charles Percier. In 1814 he won second Grand Prix and the Prix Départmental. In 1822 he was employed as under inspector under Destailleur. He replaced Delannoy in 1825 as architect of the Bibliothèque Royale. His projects for this building were not carried out. Visconti was appointed in 1832 conservateur of the eighth section of the Monuments of the City of Paris. 1835-1839 he built the Fountaine Louvois (Paris). He arranged the ceremony of the reception of the remains of the Emperor Napoleon I, December 15, 1840, and in 1842 was commissioned to construct the monument of the emperor in the church of the Invalides. In 1842 he completed the Fountaine Molière (Paris), and in 1846 commenced the Fountain of the place Saint-Sulpice (Paris). In 1850 he was appointed architect of Napoleon III, and in 1851 made the plans for the completion of the Louvre and the gallery uniting the Louvre and Tuileries on the north. This work was begun July 25, 1852. After the death of Visconti, in 1853, it was continued by Lefuel according to his designs. He built numerous residences in Paris, and the monuments of the Marshals Lauriston, Saint-Cyr, Soult, and Souchet.


Ludwig von Zanth
architect; b. August 6, 1796 (at Breslau); d. October 7, 1857.
He was educated at Cassel, Germany, and Paris. After 1810 he was associated with Hittorff (above), and in 1823 went with him to Sicily. They published together Architecture antique de la Sicile (Paris 1825, folio); and Architecture moderne de la Sicile (Paris, 1835, folio).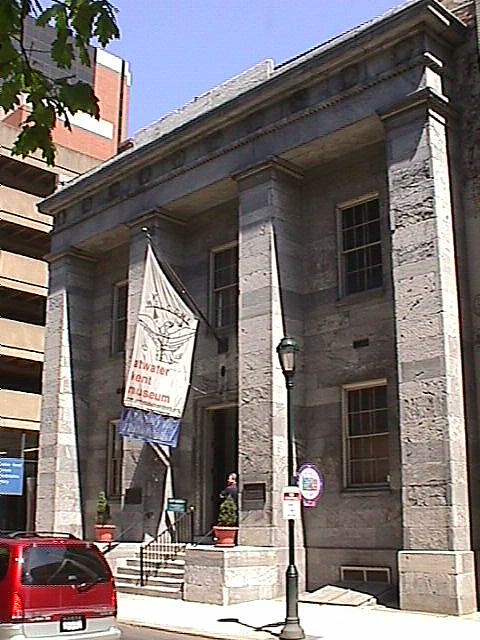 John Haviland, Franklin Institute now Atwater Kent Museum (Philadelphia, PA: 1825).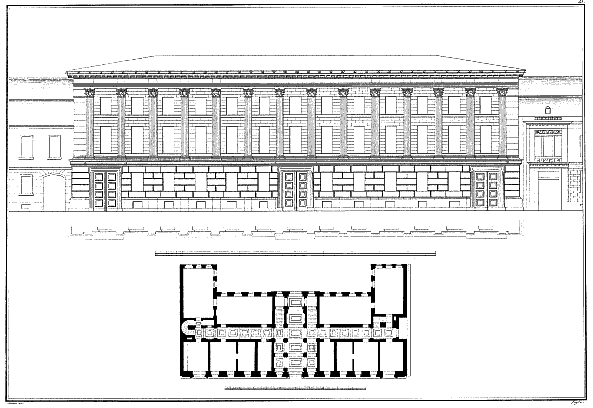 Karl Friedrich Schinkel, Ingenieur und Artillerischule (Berlin: 1824-1825).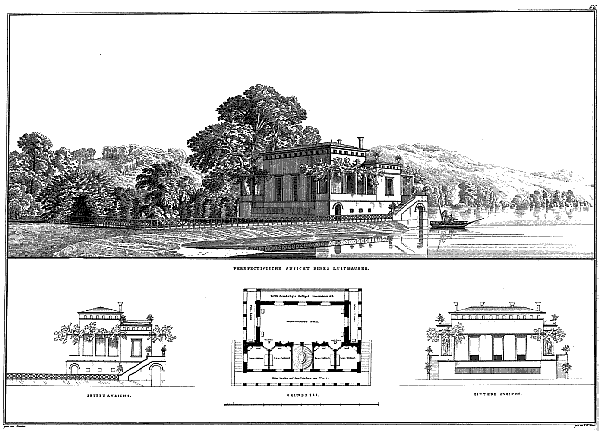 Karl Friedrich Schinkel, Lusthaus (Potsdam: 1825), p.SAE.