2001.09.30 13:40
praying, crying and laughing in NYC
In the evening I saw Robert Venturi, Denise Scott Brown, Rem Koolhaas, Michael Sorkin and some other all on the same stage. I had never seem Koolhaas in person before, and his 'performance' last night did not make a good impression. He was pissed off about something, and he let everyone know he was pissed off, but he didn't really say why he was pissed off. Maybe if the event went on for a couple more hours we would have come to see a truly delirious Koolhaas in New York (Prada clad, of course).


2001.09.30 14:07
delirium enacted
I just looked up the words delirious and delirium in the dictionary, and many aspects of the definitions do in fact describe Rem Koolhaas' behavior in New York last night. He did display aspects of a wandering mind at times. He didn't so much seem confused, but the moving podium he spoke from did provide a sense of disorientation. His 'speech' was kind of disordered, but not as much as his notes seemed to be. There was a definite restlessness (and when he deliberately moved his seat away from Venturi and more towards the center stage, maybe that was a beginning sign of delusion of hallucination). As to excitement, if it was there, then it was much subdued.
Perhaps what I really witnessed last night was a live enactment of Delirious New York, oddly starring Philadelphians (Venturi and Scott Brown), with a guest appearance by the quondam 'screen writer' (Koolhaas), and a very impassioned soliloquy by one very real New Yorker (Michael Sorkin).


2001.10.02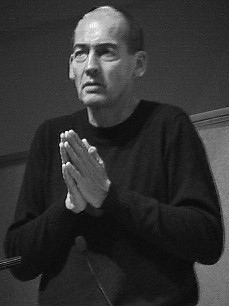 2001.12.23
"Style Besides Sorrow"
I went downtown to the New York Epicenter on Friday evening.
I also went to Ground Zero.
They are not, as it turns out, the same place. ...
... The palace may be the surreal epicenter of downtown. But the real epicenter will always be the pit. And no matter what noisy glamour surrounds it, its quiet power will always haunt us.
Maureen Dowd, "Style Besides Sorrow" in The New York Times (23 December 2001).


2002.04.17
A meeting of two great minds in architecture
Inga Saffron
Robert Venturi, the most famous architectural thinker of his generation, was standing in the living room of his most famous house last week, making small talk with longtime Chestnut Hill friends, when in walked the most famous architectural thinker of the current generation, Rem Koolhaas.
In architectural terms, it was akin to the moment when Clinton met Kennedy, when Nabokov met Tolstoy, when Balanchine met Diaghilev. It was the young revolutionary meeting the old.
Koolhaas, 58, who became his profession's latest "starchitect" this spring with the opening of the new Prada boutique in New York's SoHo, was in Philadelphia to deliver a lecture. But first, the Dutch-born architect wanted to see the 1964 Chestnut Hill house that put Venturi on the map - and challenged the modernist hegemony. Venturi, 77, offered to conduct the tour of the home, now owned by the Hughes family.
It wasn't a complete clash of the generations, but it wasn't complete understanding, either. Venturi wore tweed. Koolhaas wore what looked suspiciously like Prada.
Venturi's little Chestnut Hill house, which is now considered a landmark of 20th-century architecture, seemed barely big enough to contain the lanky, 6-foot-6 Koolhaas, who strode into the house like a general and inspected the split staircase and the square, postmodern windows. Koolhaas spoke mainly with his eyebrows.
While radical in their day, those architectural features have now become so widespread that Venturi had to take pains to make sure Koolhaas knew how groundbreaking they once were.
"There are a lot of naughty things here," Venturi explained to his younger colleague as they walked outside to look at the chair rail that girds the exterior - a decorative touch that gave the modernist architectural establishment fits. "That took a lot of courage to do," added Venturi, who also challenged conventional thinking with his books, Complexity and Contradiction in Architecture and Learning From Las Vegas.
Koolhaas, who was once compared to a motionless frog waiting to snap at a fly, assimilated Venturi's account with a barely perceptible purse of the lips.
"Did you feel it needed courage?" the Dutchman asked, after a moment.
Later, Koolhaas explained that he was a great admirer of Venturi and his partner, Denise Scott Brown. "Their interests were really revolutionary," he said. "It's baffling to me that they are treated with such skepticism."
Koolhaas is certainly familiar with skepticism. Like Venturi and Scott Brown, the Rotterdam native is better known for his writings than his buildings, which include several well-regarded houses and a French transit complex.
Koolhaas has already published eight books, each one heavier than the last - at least in poundage - and each written in a declarative style reminiscent of a Lenin manifesto. Koolhaas' breakthrough 1978 book, Delirious New York, a cult classic, weighed in at one pound, 12.7 ounces. His current tome, which asserts that shopping has become the main cultural activity in the world, tips the scale at five pounds, 14.3 ounces.
All that theorizing has won Koolhaas a big following among architects, if not clients. Frank Gehry, creator of the Guggenheim in Bilbao, Spain, dubbed him "one of the greatest thinkers of our time." Scott Brown swooned about his "restless intelligence." And more than 2,500 people turned out to hear the architectural subversive deliver a lecture last week at the University of Pennsylvania.
Like Venturi and Scott Brown, Koolhaas is inspired by the disorder of today's urban environments. While the Philadelphia pair learned from the clutter of the roadside strip, Koolhaas seeks enlightenment in the chaos of today's teeming, third-world megalopolis, which he dubs the "Generic City." Someday, he suggests, there will be little difference between Lagos and the King of Prussia mall.
"Embrace uncertainty" is Koolhaas' rallying cry to those nervous about that future.
Koolhaas began his talk at Penn with a bring-on-the-revolution exhortation, circa 1968. In his writings, he frequently assails the onslaught of market economics, the culture of consumption, and Dryvit-covered junk buildings. Yet he seems only too happy to accept commissions for clients who embrace capitalism's status quo. His Prada store and new gallery for the Guggenheim Museum's Las Vegas outlet are prime examples.
Koolhaas, who won architecture's Pritzker Prize in 2000, isn't a household name, yet, but he moved up a few notches in name recognition after Miuccia Prada commissioned him to design a New York "epicenter" for her high-concept clothing line. He lavished the Broadway loft building - a former Guggenheim Museum branch - with a wooden, rollercoaster-like wave that drops through a central atrium, see-through dressing rooms, and faux Sheetrock.
Forty million dollars later, Koolhaas is as cool as architects get.
While some may accuse Koolhaas of aiding and abetting the very consumer culture he decries, he denies that is the case. "We never wholeheartedly endorse this culture, but that doesn't mean we're critical of it," Koolhaas answered. "We're analyzing the culture, but we're part of it, too."
He notes that the Prada store, which has become a major SoHo destination, may appear at first glance to be a shrine to fashion, but it is a critique of it, too.
For instance, Koolhaas installed the mannequins in cages - the ultimate prisoners of fashion. He hung raw-looking sheetrock next to shelves containing $2,000 shirts and programmed porn flicks on the video displays. On top of all that, Koolhaas hid the cash register. Visiting the Prada store is as dissonant as attending a Park Avenue socialite's dinner with a gangsta rapper.
Not everyone enjoys Koolhaas' radical stance. Some critics complain he's using and abusing his patrons, while making them feel cool.
But Koolhaas seems to take as much pleasure in understanding consumer culture as in dissing it. One of the things he discovered in preparing his last book, The Harvard Design School Guide to Shopping, is that people are more willing to part with their money in places like museum shops, which appear to be more about culture than commerce.
It's interesting to note that a big chunk of the construction budget for converting the former SoHo Guggenheim into a Prada was spent on the signature rollercoaster wave. That sculptural sine curve, Koolhaas explains, is a tribute to the escalator, the invention that made big New York stores possible. But wait. The wave, which is supposed to celebrate mercantile history, unfolds to become a performance stage. So Koolhaas subverts Prada's consumer palace, turning it back into a culture palace. With Koolhaas, that's as good a marketing strategy as anything else.
2002.04.18 09:12
Re: venturi and koolhaas
Yes, yes, yes to all the electronics, wall as sign, Dutch silences and possible revenge(s), but how is one to be really "naughty" these days?


2002.06.20 17:46
my, what big eyes you have
...browsing through the December 2001 issue of Architecture magazine:
Rem Koolhaas/OMA's proposed (and controversial) San Francisco Prada store is no more. Citing financial difficulties, Prada Group NV has decided to can the project, nicknamed the "cheese grater" by those who disapproved of its perforated steel skin. On a brighter note, Rem has won a five year long plagiarism lawsuit. Former OMA employee Gareth Pearce sued the architect and his office, claiming they copied the scheme for the Kunsthal in Rotterdam from Pearce's 1986 thesis project for the Architectural Association. Pearce, who has also taken legal action against Kunsthal engineer Ove Arup and the city of Rotterdam, lost the case when a judge in the London High Court threw it out, calling Pearce's claim pure fantasy."
Anyone here reading that new book entitled The Architecture of Nimiety: an Abundance of Redundance in Architectural Education, Theory and Practice? I've heard conflicting reports that it is either exactly 197 words long, or 197 pages long, or 197 chapters long. One critic hailed it as "a monument to "déjà vu all over again," absolute proof that what comes around is usually what was missed the first few times it came around."


2002.08.06 12:51
the junkspace of Girard Avenue
One forthcoming aspect of "Learning From Girard Avenue" will be a featuring of Girard Avenue's junkspace.
Junkspace, a term coined by Rem Koolhaas circa early 2000, is definitely a component of today's Girard Avenue.
Koolhaas attempted to focus the discussion at In Your Face (NYC, 29 September 2001) on junkspace, that is, after he very obviously moved himself and his chair towards the center of the stage (and away from being too close to Venturi and Scott Brown). The attempt more or less failed, thus leaving Koolhaas more or less (seemingly bitterly) speechless the rest of the symposium. One member of the audience is at least on record reviling Koolhaas for his basically saying that much of the USA today is 'junk'.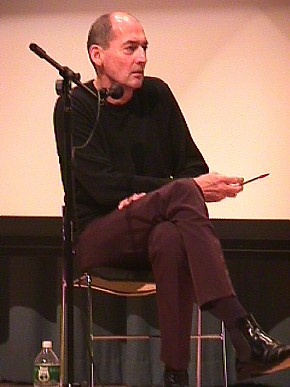 Although I agree that junk usually isn't pretty, if not often pretty ugly, junkspace itself is something that can be found in just about every USA home. Maybe junkspace in the outside world is really just a reflection of how US Americans personally live.
I'm scheduled to soon re-read Koolhaas' Junkspace--it's at least 1.5 years since I last read it. I'm now curious if Fresh Kills Landfill is ever mentioned.