2013.01.05 10:47
Please help identify the architectural style of my house.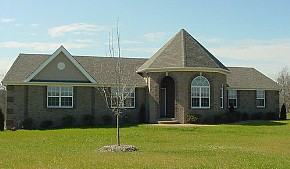 Actually, it's that 45 degree gable (to the left of the house in the image) that takes the house 'style' in the wrong direction. Without that gable the house (front) would look much more dignified, stately even.
Focusing on the gable area, move all those bushes forward at least 10 feet or so from the house wall, thus creating a semi-screened-in terrace area in front of that wing of the house. I don't know what room is under the gable, but making those windows into french doors or down to floor windows will make the terrace more attractive and/or even functional. I'd start with crushed(?) gravel for the terrace (thus regular drainage).


2013.01.06 17:39
Please help identify the architectural style of my house.
I want you to forget everything I've said, everything everyone else has said, and even Arts & Crafts, and consider going in a whole new direction. I present to you the (ultra-new) "Stately, but oh what a state" style.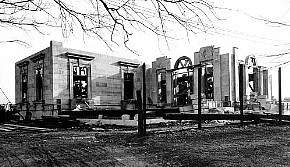 Reproduce this image down to every detail and there's no question your house will be widely published and a future much used movie and television set!
Kidding aside, this image was taken today in 1917.
Now seriously, we should do this someday--your money, of course. Or, if you ever want to return a favor, you can buy one of my books--just follow the link above for Sachlichkeit.


2013.01.06 14:00
5 January
Sure I'm aware of Libeskind's V&A Boilerhouse, and I've owned Eisenman's Diagram Diaries since early 2000. I don't know the plan or section of the Boilerhouse design, just the image you posted, and I've looked through (but not so much read) Diagram Diaries many times in the past. Working Title Museum 002 is part of a series of (schematic) designs from late summer 2000, and each version was very much intentionally designed within the architectural miliue of the very late 20th century.
2000.08.09: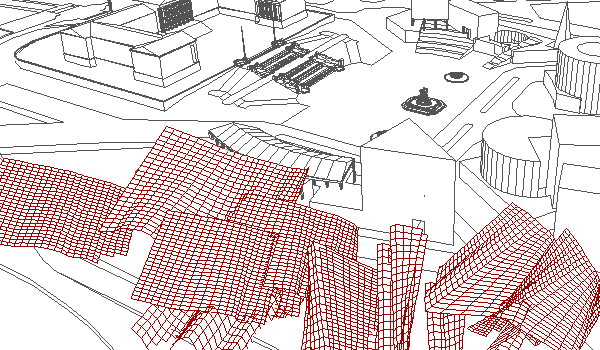 The Working Title Museum [001]
(Bilbao "Affect")
East Bank of the Schuylkill River, Quondam, 2000
2000.09.17: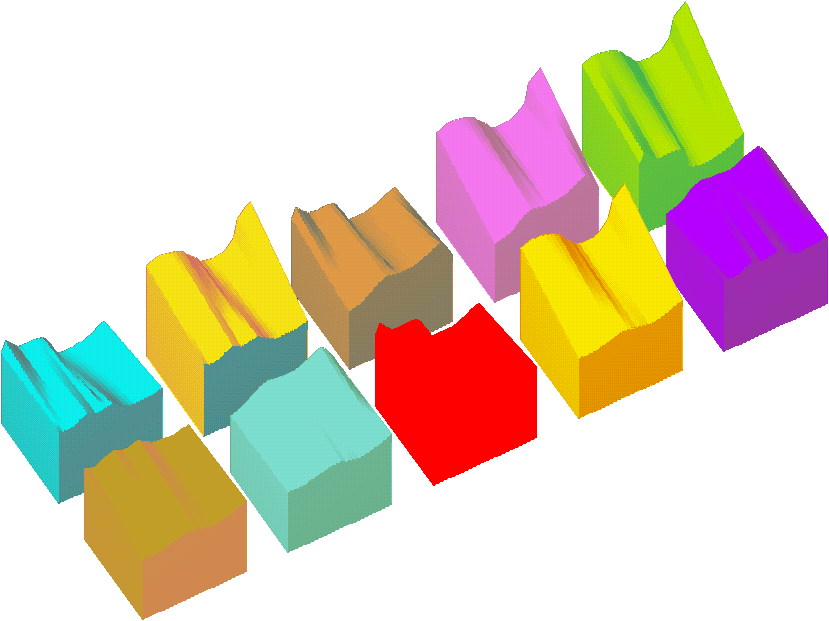 Working Title Museum 002 jumbled some of these "cubes" together...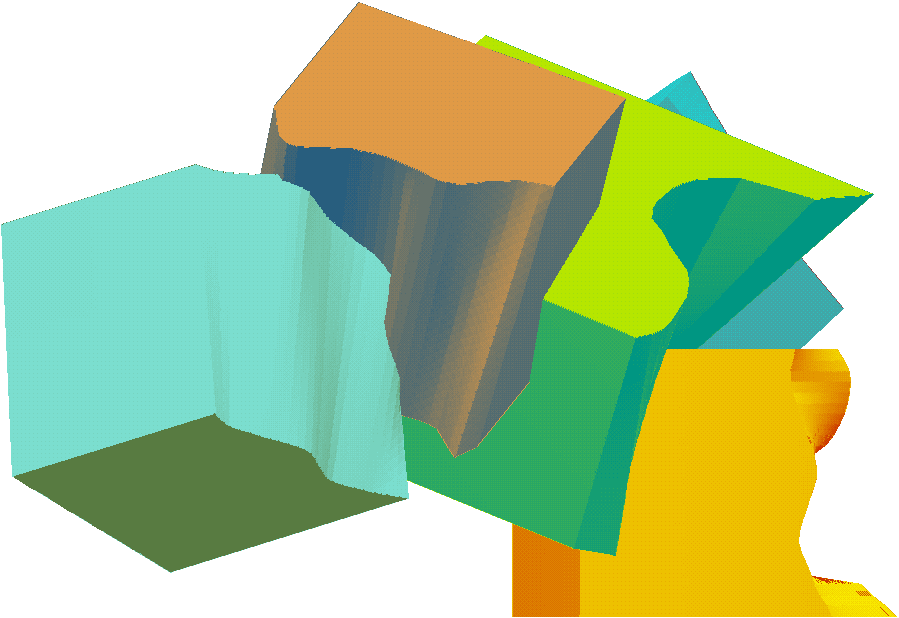 ...playing with the notion of a Gehry-Libeskind hybrid.
All along it's been an investigation, finding out what it's like to design along these lines. And, just recently, I've taken up the investigation again. Regarding the Eisenman/trace connection, what I think relates there is that I'm designing exclusively within a CAD environment--there are no sketches, drawings, physical models--it's all done just within the 'machine'. Of course I create fresh (digital) data, but much of the design work is a manipulation of existing data, and inspiration often comes from overlapping data in simultaneous 2D and 3D, seeing things from any angle, wireframe or solid, etc. The roof plan as paving idea, for example, occurred late Friday night when I was checking to see how the jumble of upper 'cubes' relate to the ground plan in plan view.
Re-newed interest in this project started with OMA's 2011.04.04 announcement of the National Art Museum of China design...
...thus beginning to see the Working Title Museum 002 design in a new way. And that's what I'm investigating now.
The Quondam-on-LSD Style. Sure, why not?
2013.01.10 18:47
Please help identify the architectural style of my house.
I think a clearer benchmark for American homes (design and construction) is pre-WWII and post-WWII. And it's not so much the education of the designer. For the whole industry, everything pre-WWII just seemed too old-fashioned for post-WWII. And, by the 1970s, the price of labor and materials started to steadily rise, thus rendering the 'old-fashioned' ways more or less completely obsolete. And, by the mid-1980s Post-Modernism brought 'style' back into the design equation. But 'style' and 'the old-fashioned way of doing things' are not the same thing.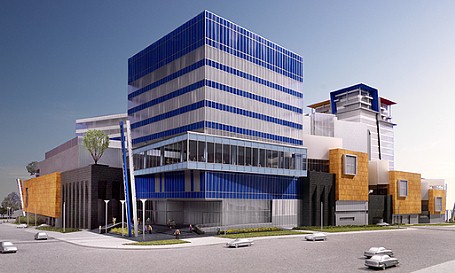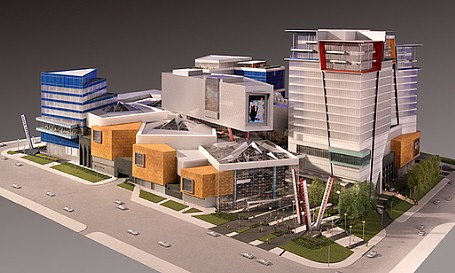 2013.01.29 09:49
Jerde-designed mixed-use destination in Moscow begins construction
Ah, the Khrushchev finally visits Disneyland style.
Overall, I think it's not Russian enough, but, who knows, maybe it's the Russians that are behind global warming, because they may well profit from it.
Bombs do not choose. They will hit everything.
--Nikita Khrushchev
If you cannot catch a bird of paradise, better take a wet hen.
--Nikita Khrushchev


2013.02.05 11:22:
5 February
Besides the 'style' reading I'm already into, I'll further explore Schumacher's The Autopoiesis of Architecture: A New Framework for Architecture, Vol. 1 by randomly picking an index entry and read the corresponding pages. For example, critical theory 62-6 , loose coupling 140, 325.
2013.03.11 22:30
11 March
Really liking some of Niemeyer's plans in Papadaki's 1950 book, especially 1943 Resort Hotel at Pampulha, 1947 House Tremaine at Santa Barbara, and 1949 Hotel Regente Gavea in Rio de Janerio. It seems they influenced the late style of Le Corbusier and even Koolhaas. Reminded of "Back to school" in Content, pp. 266-7.


2013.04.30 16:56
Hitler's Words Into Stone. Can architecture itself be fascist?
Schinkel was a gifted experimenting eclectic and a very talented assimilator. He study-toured Italy, Paris and England; he never visited Greece. His primary clients/employers were Prussian royalty and the Prussian government; there was no German nation yet. Schinkel did on occasion speculate as to what the most fitting style of architecture for Prussia might be, while at the same time many thought Cologne Cathedral to be the best symbol of 'German' architecture. The notion of Schinkel's architecture being a glorification of German culture came after the fact. Leo von Klenze, Schinkel's contemporary in Bavaria, did do a few projects where the program was to glorify German culture, however.
In many ways, Schinkel also learned much from architectural publications of the time, particularly Piranesi, Durand and Stuart & I forget his name's record of ancient Greek architecture.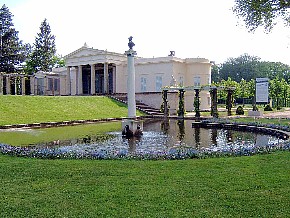 Incidentally, the first scheme for Charlottenhof (above) was drawn by the Crown Prince for whom the villa was built.


2013.06.18 19:39
Kazy Varnelis says, "Good riddance, Pritzker"
Stephen Lauf
Cat's away, mice will play
or
Mom goes eclectic
2012.07.19 (the day I accidentally found out Venturi and Scott Brown retired, a week before the official announcement)
images
Note how we have here the Vanna Venturi House as layered historical styles mish-mash. Makes you wonder whether many people's conception of Venturi's architecture is not so much real, but a layered historical fact mish-mash in their own heads. Kind of ironic. And as to the joke, since I have now collaborated with Venturi, albeit in the 4th dimension, I nonetheless want recognition from the Pritzker Jury for having done so!