2003.10.23 15:47
Free Library designs


www.ten-arquitectos.com


2003.10.23 15:47
Free Library designs
Last night four architects presented their preliminary designs (/ideas) for the renovation and expansion of the Free Library of Philadelphia Central Branch. The architects were:
Moshe Safdie
Spencer de Gray (of Foster + Partners)
Enrique Norton (of TEN Arquitectos)
Cesar Pelli
Each architect presented for 30 minutes, and it was actually enjoyable seeing them present in front of both the client and the public. The final architect will be named by the end of this year.
Each presentation featured a full schematic design. Safdie's is perhaps the most whimsical design, albeit fully restrained. The Foster and Pelli designs were close to almost identical. And the Norton design was certainly the most 'avant-garde'. I really can't guess for sure who will be chosen in the end because they all seem to be good and/or interesting designs. Safdie stands a chance because his design is different, but not outlandish. The Foster and Pelli design have a good conservative appeal, and they reinforce each other's approach. If Norton's design is chosen, then Philadelphia will have its first truly 21st century building, and a real eye catcher (but I'm not altogether sure that's a good thing).
Throughout the presentations, all the architects referred to the existing 1920s Free Library by Trumbauer as "really a 19th century (library) building." I don't like this ongoing distortion of history because the Free Library is a great 20th century building that just happens to not be modern. I wish I thought all this through last night during the 'questions & comments' session following the presentations, because I would have had great fun 'commenting' on how the Foster and Pelli designs seem to be great 20th century buildings, Safdie's a borderline millennial building, and Norton's an almost 21st century building.


2003.11.21 16:24
Re: Virtual and Real
Quondam - A Virtual Museum of Architecture celebrates its 7th anniversary online today.
The weather in Philadelphia today is gorgeous, and I was going to visit the closest real museum to me--Ryerss Museum and Library--to look at a pieces of the Coliseum and the Great Wall and even the full contents of a Japanese Buddhist Temple. The Ryerss Mansion is a wonderful example of a house that morphed into a museum, and the contents of the museum are all the things that the last residents of the Ryerss Mansion purchased about 100 years ago as they traveled around the world, particularly through the Orient. For a couple of years now I like to refer to the Ryerss Museum as a "Museum of Someone's [Global] Shopping." I didn't make it to Ryerss, though, because my trip to the bank, the post office (sending things to eBay shoppers in New York and Italy), and the supply store took longer than expected. I might go to Ryerss tomorrow or Sunday, however.
2003.11.30
5233


2003.12.03 17:21
so much for liberty...
Although the quondam Liberty Bell Pavilion of Independence Historic National Park (Philadelphia) is officially for sale, the Park Service has nonetheless found a new (interim?) use for the building. It is now the security checkpoint for visitors to the Liberty Bell that is in the adjacent new Liberty Bell building. Today, while looking inside the former Liberty Bell Pavilion, I saw a man with outstretched arms being "checked" by a Park Ranger with a hand-held scanner right in front of where the Liberty Bell used to be with Independence Hall clearly in the background. Like they say, "Only in America."


2003.12.03 17:36
so much for liberty...
The point of this thread is... ...the ironic symbolism currently manifest by the architecture at Independence Historic National Park.
Security checkpoints at IHNP are a post-911 phenomenon, and, as far as their 'design" there goes, they are makeshift and poorly executed. Using the former Liberty Bell Pavilion now also as a checkpoint adds symbolic absurdity to the mix.
Granted this may all be temporary, but, if you are mindful of all the 200+ year history of this specific site, there's not much about it that hasn't just been temporary, or indeed ironic about the literal birthplace of the United States of America.
Perhaps the reason it is so difficult these days to design a decent memorial is because architects for almost a century now are more trained at designing oblivion.


2003.12.12
Bernard Tschumi - Concepts vs. Contexts


2003.12.13 16:42
Which Acropolis do you prefer?
The Acropolis as used by the ancient Greeks?
The Acropolis as used by the ancient Romans?
The Acropolis when the Parthenon was used as a Christian Church dedicated to Mary?
The Acropolis when the Turks used the Parthenon as a munitions magazine (hence the 17th century explosion that pretty much wrecked the place--as reenacted at NYC 11 September 2001?)?
The Acropolis as mass tourist destination with the Parthenon ruins slowly being further destroyed by air-pollution?
The Acropolis as urban viewing platform as reenacted at Philadelphia's Fairmount (site of the Philadelphia Museum of Art).


2003.12.31
Philadelphia Museum of Art
2004.01.06
5233


2004.01.10 12:57
the making of "My Rita Novel Idea"
Rubens tells us about all the research he did after receiving his first public commission of three altarpieces for the crypt chapel of St. Helena in Santa Croce in Gerusalemme. Plus he thoroughly discusses his designs of the Life of Constantine tapestries that presently hang in the Great Hall of the Philadelphia Museum of Art.


2004.01.24 09:47
The New ICA. ICA Unveils Diller + Scofidio's Dramatic Museum Design
My thesis project (Temple University Architecture Program 1981) was a new building for the Philadelphia Institute of Contemporary Art. It took up most of the block on the south side of Rittenhouse Square (Street) between 17th and 18th Streets, just behind the Philadelphia Art Alliance. The ICA building's design comprised a collage of various building types, inspired by Kahn's Convent for the Dominican Sisters and Stirling's Science Center in Berlin, in the flavor of a virtual museum of architecture you could say.


2004.01.30
Philadelphia Museum of Art


2004.02.13
gas jet fire


2004.02.14 14:07
Re: of castles, fortifications, etc.
Architect Aldo Rossi also held the lighthouse typology in high regard. If you are not familiar with his many architectural sketches (many of which are published in a fair number of books), you might find lots of inspiration related to your own work. His collecting of favorite typologies is much akin to your own collecting of the 'architecture of electricity'.
Last evening Philadelphia was witness to a great 100' to 150' column of fire. Ten minutes before 5 o'clock a small crew of water workers at the intersection of Olney and Ogontz Avenues (about 2.5 miles directly west from where I live) accidentally broke open a 20" gas main, and within a half minute there erupted an enormous explosion resulting in a tremendously powerful vertical jet of flame. Miraculously, no one was injured, and after four hours the pressure within the gas main was shut off, and the column of fire was gone.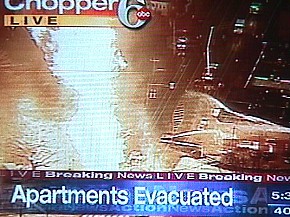 Your thoughts about the place of fiction in the reality of modern life is poignant. Late last night I watched the movie (based on the book) Remains of the Day, and it's story seems to relate to what you say.
From amazon.com: "The novel's narrator, Stevens, is a perfect English butler who tries to give his narrow existence form and meaning through the self-effacing, almost mystical practice of his profession. In a career that spans the second World War, Stevens is oblivious of the real life that goes on around him--oblivious, for instance, of the fact that his aristocrat employer is a Nazi sympathizer. Still, there are even larger matters at stake in this heartbreaking, pitch-perfect novel--namely, Stevens' own ability to allow some bit of life-affirming love into his tightly repressed existence."
What I saw in the film is that the aristocrat employer was just as oblivious as his butler, an oblivion, moreover, manifest by grandly organized pretense. In the movie, Christopher Reeves plays a U.S. Congressman from Pennsylvania. Before he visits the manor for a circa 1936 foreign affairs conference, the aristocrat and some of his compatriots wonder as to the source of the Congressman's family's wealth--"Perhaps they made their money from trolley cars." This is an obscure reference to the Philadelphia Wideners, for whom Lynnewood Hall by Horace Trumbauer was built.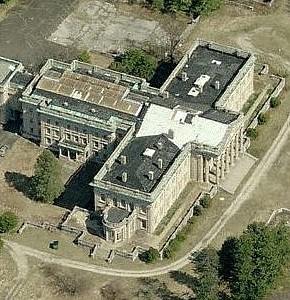 Horace Trumbauer, Lynnewood Hall (Elkins Park, PA: 1898-1900).
I spent the better part of yesterday afternoon (just across the street from the now derelict Lynnewood Hall, which was once just as grand as the Manor House in the movie) at Our Lady of Prouille, the quondam Elstowe, estate of the Elkins Family, now a retreat house run by the Dominican Sisters of St. Catherine de Ricci. I had the good fortune of speaking with Sister Caroline who is now in charge of the place. We even discussed Louis Kahn's unexecuted design for a Motherhouse which the Sisterhood had commissioned. Before going home, I went to the art library at Temple University's Tyler School of Art (which is right next to where I spoke with Sister Caroline, whose office is within what used to be the estate squash courts). Because I was looking up books about the art treasures that used to be within Lynnewood Hall (now the Widener Collection within the National Gallery, Washington DC), the librarian also brought out of the rare book room a most unexpected item--the 1946 auction catalogue of the estate of Eva Stotesbury.
2004.03.15 11:52
Re: Burial Practices of Native Americans: Production of A Kind Architecture
This Saturday morning, 20 March 2004, John the Baptist Piranesi is conducting a dies sanguinis (day of blood) equinox tour of Tacony Creek Park, starting at St. Ambrose Parish School and ending at the site of the now quondam (cut down sometime a few months ago) quintuple sacred tree next to where Rising Sun Avenue crosses Tacony Creek. Those attending the tour are also invited to the Dougherty/Stotesbury Engagement Party at Lynnewood Hall that evening. Thanks to Eva's brilliant social skills, she convinced Benjamin Franklin to invite King Louis XVI to Philadelphia also on 20 March (since 20 March 1778 is when the King and Franklin first met at Versailles--the etiquette of reciprocity). Eva can barely contain herself at the prospect of showing King Louis around the quondam site of Whitemarsh Hall, her main Trumbauer house, "the Versailles of America."


2004.03.21 10:53
party ends with a bang
...to witness the implosion of Veteran's Stadium.
If you have a copy of the book Mutations handy, you can see a nice aerial shot of the now quondam Veteran's Stadium on pages 542-3. The caption reads:
In 1999 American cities saw at least 41 new and renovated sports facilities with another 34 such projects slated for the next 3 years.
Long argued by developers and sports executives as boons toward sustainable urban renewal, economics consistently show that stadiums actually slow the growth of cities and cost taxpayers billions of dollars per decade.
"New" stadiums are frequently declared obsolete and are torn down, in favor of yet newer ones, in as little as 7 years. The brutal, perpetual migration of sports teams to ever-newer facilities however can increase their own yearly income by as much as $40 million.
So much for metabolic nature.