2011.03.06
Ryerss Mansion Museum


2011.07.05
I know. You said it was one of your favorite Philadelphia buildings in a Philadelphia Inquirer Sunday magazine piece in the mid-eighties. 4004o


2011.07.05
"Who is the architect of Peirce College?"


2011.07.06
(some of) The Architecture of Willis Gaylord Hale


2011.11.05 14:57
Quondam's Fifteenth Anniversary
Great Maytham in Kent of 1910 is Queen Anne, but not the Queen Anne of the 1870s. Here a great mansion of the early eifhteenth century was re-created with such a plausibility of craftsmanship that after only half a century it was hard to believe it was not two hundred and fifty years old. A somewhat smaller house, the Salutation in Sandwich of 1912, is similar and perhaps even more remarkable as an example of what is almost 'productive archaeology' on the part of a man who was not, in fact, at all archaeologically minded. Such houses are the twentieth-century equivalents of Devey's in the nineteenth century, but they often have a witty originality in the handling of traditional detail that has aptly been called 'naughty' and is peculiarly personal to Lutyens.
Hitchcock, 1958
Robert Venturi, the most famous architectural thinker of his generation, was standing in the living room of his most famous house last week, making small talk with longtime Chestnut Hill friends, when in walked the most famous architectural thinker of the current generation, Rem Koolhaas.
In architectural terms, it was akin to the moment when Clinton met Kennedy, when Nabokov met Tolstoy, when Balanchine met Diaghilev. It was the young revolutionary meeting the old.
Koolhaas, 58, who became his profession's latest "starchitect" this spring with the opening of the new Prada boutique in New York's SoHo, was in Philadelphia to deliver a lecture. But first, the Dutch-born architect wanted to see the 1964 Chestnut Hill house that put Venturi on the map - and challenged the modernist hegemony. Venturi, 77, offered to conduct the tour of the home, now owned by the Hughes family.
It wasn't a complete clash of the generations, but it wasn't complete understanding, either. Venturi wore tweed. Koolhaas wore what looked suspiciously like Prada.
Venturi's little Chestnut Hill house, which is now considered a landmark of 20th-century architecture, seemed barely big enough to contain the lanky, 6-foot-6 Koolhaas, who strode into the house like a general and inspected the split staircase and the square, postmodern windows. Koolhaas spoke mainly with his eyebrows.
While radical in their day, those architectural features have now become so widespread that Venturi had to take pains to make sure Koolhaas knew how groundbreaking they once were.
"There are a lot of naughty things here," Venturi explained to his younger colleague as they walked outside to look at the chair rail that girds the exterior - a decorative touch that gave the modernist architectural establishment fits. "That took a lot of courage to do," added Venturi, who also challenged conventional thinking with his books, Complexity and Contradiction in Architecture and Learning from Las Vegas.
Koolhaas, who was once compared to a motionless frog waiting to snap at a fly, assimilated Venturi's account with a barely perceptible purse of the lips.
"Did you feel it needed courage?" the Dutchman asked, after a moment.
Later, Koolhaas explained that he was a great admirer of Venturi and his partner, Denise Scott Brown. "Their interests were really revolutionary," he said. "It's baffling to me that they are treated with such skepticism."
Saffron, 2002.04.17
Yes, yes, yes to all the electronics, wall as sign, Dutch silences and possible revenge(s), but how is one to be really "naughty" these days?
Lauf, 2002.04.18
2011.11.05
Piranesian gigantism
Piranesi's rendition of Hadrian's tomb fits to scale within Philadelphia's Logan Circle. This coincidence in scale eventually led to the formation of Ichnographia Quondam.


2012.07.19 15:41
The Philadelphia School, deterritorialized
Cat's away, mice will play or Mom goes eclectic. 3701f g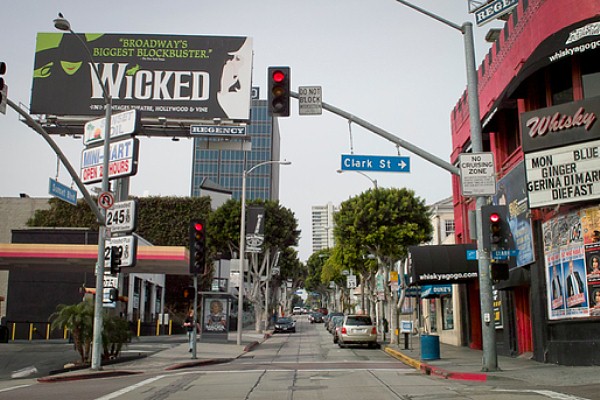 2012.08.01 10:53
Narrow Streets Los Angeles
I wouldn't call Yoon's project an exercise in fiction, rather an exercise in virtuality. Unfortunately, "Narrow Streets Los Angeles" follows the all-too-common notion of blurring the real and the virtual. After finally looking at the selection of narrowed streets, I understand what Eric means by "make it all seem cute"--there is indeed a distinct Los Angeles urbanity lost when the streets are no longer the width of almost rivers. The intersection of Cottman and Bustleton Avenues in Northeast Philadelphia actually reminds me a lot of LA (pictured on page 780 of The Harvard Design School Guide to Shopping), and, while surrounded by a plethora of narrow domestic streets, the busy intersection has a quite comfortable large scale fitting to its current nodal function.
Incidentally, Bustleton Avenue has its origin as an 'ancient' Indian trail, while Cottman Avenue started as a straight property line on the 1687 map of Pennsylvania.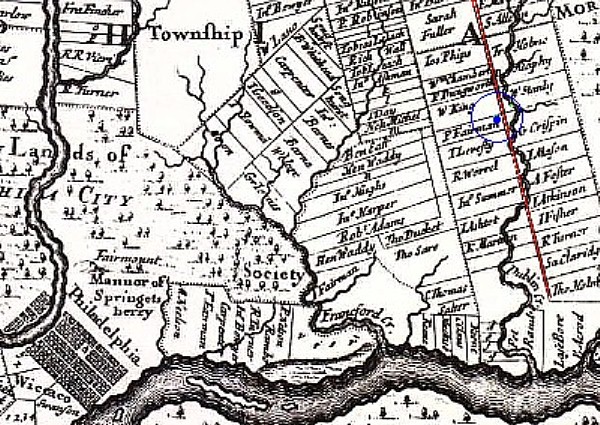 Cottman Avenue is the line parallel and left of the red line above. The blue dot is where I'm sitting right now, and the meander either side of the red line is Pennypack Creek.
Regarding exercises in virtuality, I prefer it when the virtual is held more distinct from the real. For example, taking LA streets and mixing one side of a street with the side of another street, and either playing with the width or not, seems more interesting.
2012.08.09 13:09
The Philadelphia School, deterritorialized
Back in 2003, in to see in Philly, a quondam thread at archinect/forum, I wrote, "There's more obscure early Kahn in the Philadelphia area, kind of like going on a treasure hunt." Since then, someone has actually gone on that "treasure hunt" and published the findings on flickr.


2012.08.28
Fisher House


2012.11.29 15:35
29 November
Found some summer 2011 images at flickr of where I went walking today, which is the first time I'm seeing the place in full foliage.
There were about a dozen cows here around noon today, mostly sitting, and one cow suddenly decided to chase one of the three crows that was also amongst them. I live down the valley and on top of the next big hill through the center of the trees to the right.
Saw what I believe to be the same fox I saw at the beginning of my walk (along the northern-most fence) running through this field. Imagine that, seeing a fox run across the fields of Fox Chase Farm.


2013.01.10
Fox Chase Farm/Lorimer Park


2013.05.24
Istanbul saves its silhouette
The view corridors in Philadelphia had nothing to do with the city grid plan. One view corridor was to protect the view of City Hall from the Benjamin Franklin Bridge as one approaches Philadelphia from New Jersey, and the other view corridor was to protect the view of the center city Philadelphia skyline with nothing behind City Hall from I-95 as one approached downtown Philadelphia from the north. At least that's what I have a memory of.
I played a novel role in this proposal--in 1985 I constructed a 3D computer model of center city Philadelphia for the Philadelphia City Planning Commission while I was CAD system manager at the University of Pennsylvania's Graduate School of Fine Arts. The CAD model included the Rouse (developer) Liberty Place towers which were about that time in early construction. The model was indeed used to see what future views of the Philadelphia skyline would look like from any number of different vantage points.


2013.07.10 17:54
Why is everyone bashing OMA and Rem Koolhaas?
No where did I say or imply that if the inside is nice, then the outside doesn't need to be nice, thus I am not guilty of taking a cynical view of civic space. Now, after looking at large photographs (in El Croquis 134/135) of all four sides of the library, the outside doesn't look all that offensive; granted it's all large scaled, but the streets don't look like they're really suffering because of the building. So again, what the library has done is create a whole new dimension of free public space on the inside, and this is something that is increasing rare when it comes to urban public space (which is exactly why the homeless are attracted to the space--Philadelphia's downtown public library, a great beaux-arts pile, also attracts homeless people because there really is no other free indoor public space).


2013.10.26
Germantown Avenue University of Architecture 2429


2013.11.16 21:18
Street naming logic
The older parts of Philadelphia (streets) have the most logic.
The original plan, today's Center City, has north-south streets numbered going east to west starting at the Delaware River: the river at Water Street, Front Street, 2nd Street, 3rd Street, etc., going at least into the 60s in West Philadelphia. The (major) east-west streets are named for trees, from north to south: Vine Street, Sassafras Street (now Race Street), Mulberry Street (now Arch Street), Cherry Street, Chestnut Street, Walnut Street, Locust Street, Spruce Street, Pine Street.
The number streets extend north and south to the city limits. The (mostly major) east-west streets of North Philadelphia are named for Pennsylvania counties: Columbia, Berks, Susquehanna, Dauphin, York, Cumberland, Huntingdon, Lehigh, Somerset, Cambria, Indiana, Clearfield, Allegheny, Westmoreland, Tioga, Venango, Erie, Butler, Pike, Luzerne, Lycoming, Wyoming.
Philadelphia's land also reaches northeast, and those north-south streets east of Front Street are alphabetical, going west to east: A Street, B Street, etc.
Many of the 'destination' streets are also original 'Indian' trails: Germantown Avenue, Frankford Avenue, Oxford Avenue, Old York Road, Baltimore Pike(?)
There is even a book: Mermaids, Monasteries, Cherokees and Custer: the stories behind Philadelphia street names (1990).
2013.11.16 21:28
Street naming logic
Forgot to mention:
The reason perhaps for naming streets after trees in the original part of Philadelphia is that Pennsylvania itself is Latin for (William) Penn's Woods. There must have just been trees (and deer) everywhere, along with the Swedish colonials who were here even before Penn became owner of the whole place. I'm not sure if there are any Swedish name streets in Philadelphia.


2013.12.08
30th Street Station Railyard 2430


2014.01.08
Salustiani Mall 2431


2014.01.08
Hadriani Mall 2432


2014.04.22 08:46
Inga Saffron: It's not just architecture, it's city life criticism
Links to Saffron's articles appear almost weekly within ArchNewsNow's daily collection of worldwide architecture news. The articles themselves, however, may not have a broad audience appeal because they are, for the most part, very Philadelphia centric. What is significant though, is that a local newspaper still publishes the work of a critic that is so in tune with what is going on here regarding architecture, urban design and planning with a strong advocacy for (and clear presentation of) whatever is best about any proposal, design and/or solution. Saffron is also not afraid to say when and why something is just plain bad.
Saffron's articles are not long, but they are full and always present a concise story--you finish with the feeling that you now have a very good understanding of what's really going on.


2014.09.07 12:53
Interview: September 2, 2013, 12:00 pm
I think it's worth pursuing the notions of drawing and/or/versus data. It's also necessary to note that what ever I say about drawing/data pertains largely only to the utilization of drawing/data as a medium and facilitator of designing architecture period, where as whatever you say (I assume) pertains to drawing/data as a means toward architecture as ultimately a building. Essentially, I'm investigating possibilities within the virtual (only), and you're investigating the possibilities of taking the virtual into the real. (I hope I'm not over-simplifying.)
You make a very good distinction when you say I came into the computer via drawing and you came into drawing via the computer. Thus I'll try to share a little of what that's been like for me and what I've learned and/or tried to work toward. (And what I say in this regard may ultimately be worth nothing practical, but I'll say it anyway.) Right away when I was first introduced to CAD I saw that it could allowed me to draw in ways I otherwise could only dream about. It put my manual dexterity into over-drive--I started redrawing Piranesi's Campo Marzio within a week of having my own CAD system April 1987. With 3D I soon thought of modeling architectural designs that were never built so as to experience these buildings virtually, essentially visiting architecture that didn't exist otherwise. This 3D project soon also became a real learning experience as to what constitutes good design (and the growing collection of CAD building models turned into Quondam a virtual museum of architecture). The 'job' of designing with CAD never became a real issue for me because from 1987-1990 I was a CAD consultant for a number of architects, the Philadelphia City Planning Commission and Toll Brothers, where I wasn't designing for them, rather generating 2D and 3D data that they couldn't get anywhere else. My business evaporated with the 1990 recession, and by the time the recession ended (that's also when I took the registration exam and officially became an architect) my CAD skills were no longer 'rare' and there was no real demand for me as a consultant anymore. On top of all that, 1994 was when I became a more or less full time caregiver (for various members of my family since then) which made it impossible for me to get back into a full-time work position. Thus, for the past 22 years I've been using CAD kind of at my leisure, yet still seriously via Quondam. Some critics have said I'm only playing, but, like your football analogy, I'm definitely playing with goals in mind, where the overriding goal is to continually see how much can I get out of and how far I can push this notion of architecture via the virtual and CAD.
Because of my many years of drawing, I have a very large quantity of 2D and 3D drawing data, and it's this collection of data that's now my drawing playground. Designing buildings, however, is still a tough issue for me, primarily because I have no real building programs (although, since in the future everything will be a museum, it's always easy for me to design another museum (wink wink)). Thus I often design (with existing data) in reverse where the design comes before the program, for example, when I put Le Corbusier's St. Pierre at Firminy-Vert into Louis Kahn's Hurva Synagogue it turned out that I just designed my first mosque.
In just the last month or so, I've refined the terrain model of where I live, and I'm starting to place Quondam's collection in and all-around here--Ury House exists again, and I can readily change my own house into the Villa Savoye, Acropolis Q (lately complete with Venturi's Eclectic Houses) is under construction at the top of the valley and the Dominican Motherhouse of the Sister's of St Catherine de Ricci is just over the hill up the street, and I think it's the Trenton Jewish Community Center Bathhouse that's going over Kahn's grave. This is probably the closest my architecture is ever going to get to the real.