2002.08.11 13:23
Re: Kahn and Wright
Seeing the other day how Ahavath Israel Synagogue is now again changed was like a gift to me in that I was there looking because I'm working on Somewhat Incompletely Louis I. Kahn. I'm beginning to believe that the notion of incompleteness is exactly what's missing from design theory, teaching and practice, and, indeed, that an understanding of incompleteness could help remedy at least some of what you see as being so wrong today.
In the radio interview of Hani Rashid, just over 13 minutes into the interview Rashid said, "There is a famous adage by Louie Kahn that really one doesn't get to build until they're in their early fifties." I'm not sure where this adage comes from exactly, nor if that is indeed what Kahn really said, but the reality is that Kahn (who turned 50 in 1951) had already build a whole lot of buildings between 1935 and 1951. Kahn's work, however, did not receive wide recognition until the Yale Art Gallery (1950-53) and then (for the buildings) after. [Another thing Rashid said is that his firm never expected their Virtual New York Stock Exchange project to receive all the recognition it did, which completely contradicts what Rashid said at the Anything conference (June 2000), that is, that he pretty much demanded the clients of the project to publicize it!)
Seeing the Trenton Bath House for the first time last week while it was very much being used, more or less convinced me that Kahn indeed learned (and then knew) a whole lot about architecture, particularly architecture's osmotic potential--that place's integration of outside and inside is nothing less than a "breath of fresh air."


2002.08.14 16:20
scale of eyeballs
A few years ago I saw a USGS map of the area around where I live. About a mile up Tabor Road is a huge Naval Supply Depot, and on the map I was impressed by the scale of the facility and of the buildings in it. Because of the architecture research I was doing at the time, the difference in scale between the depot and the adjacent neighborhoods of rowhomes reminded me of the contrasting scales of buildings Piranesi incorporated within the Ichnographia Campus Martius. Remember, Campus Martius means Fields of Mars, and we all know what Mars is the god of.


2002.09.15
Philadelphia Museum of Art


2002.09.17
Philadelphia 2026
Semiquincentennial... ...the next major event year for Philadelphia and the USA. ...a design program utilizing CAD and the Philadelphia model.


2002.09.29
ICA
2002.09.30 15:51
moving architecture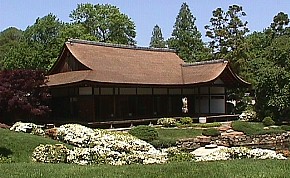 Yoshimura Junzoo, Shofu-so (Nagoya /Philadelphia: American Japan Society of Tokyo, 1953-57).
This 16th century style Shofu-so (Pine Breeze Villa) was constructed at Nagoya, Japan in 1953, then disassembled and shipped to New York City for exhibit within MoMA's sculpture garden in 1954, then disassembled again and shipped to Philadelphia's Fairmount Park.
The "Japanese House and Garden" now within Fairmount Park really is a moving architecture, not just literally moving, but even more so a 'spiritually moving' place. One can't help but feel transported when there. The garden is especially beautiful in early May when the many, many azalea bushes are in bloom.
When I first visited the house in 1975 it was one of those places (in Philadelphia) that was rarely visited. There was a young 'hippie-ish' tour guide 'working' there then, and he admitted to spending most of his time there completely alone. He said he loved it though, especially on rainy days because that's when he opened up the entire wall of the house that faced the lake/pond in the garden, and that's when he sat in the middle of the main room's floor "taking it all in."


2002.10.05
Cliveden 1767


2002.10.29 09:49
Re: Traffic Design
In describing what is now a somewhat ubiquitous housing type in the USA, Brian wrote, "not like townhouses with the 1st floor dedicated to parking, and housing above." My mother lives in such a model of early 1970s vintage, and most of Northeast Philadelphia is of like ilk. I too have seen this paradigm as more regrettable than not, yet at the same time I realize that my mother's house is oddly related to Le Corbusier's Villa Savoye, though without the pilotis, ramp and roof garden. The genealogy goes like this. First there is Savoye and Le Corbusier's housing project at Pessac. Savoye over the years decays but is rescued and restored as museum piece, all the while being an icon in print. Pessac is rather quickly transformed from Purist manifestation into what is essentially ur-postmodern design by its individual inhabitants. The house my mother lives in is then post ur-postmodern Pessac (but because it is part of a twin rather than part of a row, it still harbors buried evocations of Savoye).
The (row) house I live in, built in 1938, is (I believe just still) within the first generation of US housing to incorporate a garage. Here, all the designated parking happens in the back at ground level via a communal driveway, which in reality is a semi-private/semi-public street. From the back my house shows three stories, yet from the front the houses were made to look like two story dwellings via bermed lawns.
I sometimes wonder what Northeast Philadelphia would be like if its housing had more closely followed the design of Savoye and Purist Pessac. (Incidentally, Stonorov's and Kahn's Pennypack Woods housing, certainly among the first planned housing communities of Far Northeast Philadelphia, has a strong affinity with Pessac, kind of a combination of both Pessac's Purist and post-Purist manifestations.)
2002.11.02
Peter Eisenman: Two Projects 2002b


2002.11.08
Vox Populi
Fabric Workshop Stairwell


2002.11.10
now look who's reenacting
I didn't have to read more than the first few paragraphs of what Muschamp writes in today's New York Times before the notion of writing something myself took over. Muschamp's first paragraph reads:
"Elizabeth Diller and Ricardo Scofidio have defined a new building type for the contemporary city: the urban viewing platform. Invention of this caliber doesn't turn up every day. Diller and Scofidio could spend the rest of their careers reworking this one idea over and over again and not be judged harshly for repeating themselves. The basic concept is that good, and its potential applications are various. Many cities will want to try out variations on the theme. But Boston will receive the first authentic edition in 2004, when the city's Institute of Contemporary Art is expected to open its doors."
The "urban viewing platform" is NOT a new invention created by Diller and Scofidio. Every time I visit the Philadelphia Museum of Art I also visit a quite remarkable "urban viewing platform." Of course, Philadelphia's "urban viewing platform" has already been embedded into popular culture via a climatic scene in the movie Rocky, as in "flying high now!" There is, however, much more culture embedded within Philadelphia's "Fairemount" in that it reenacts the Acropolis [and now the Vatican Hill too], which, incidentally, is much closer to the invention of the "urban viewing platform" than anything Diller and Scofidio ever did or do. So let's not confuse invention with what is really reenactment.
I didn't bother to finish reading Muschamp's piece because (I feel) its contents are predictable, thus I will write a little more about Philadelphia's viewing platform, which will probably be akin to things that Muschamp says. The stairs that Sylvester Stallone ran up in the movie also many times act as enormous theatrical seating with the head of the Benjamin Franklin ("inventor" of electricity, as long as invention awards are being passed around) Parkway as the stage and the Philadelphia skyline as backdrop. Beyond that, there are always a variety of life vignettes occurring on the steps and up in the Museum forecourt. I particularly like seeing wedding pictures taken up on the "viewing platform"/forecourt; it reminds me of a similar scene I once saw at the Campidoglio in Rome, which, incidentally, is another great "urban viewing platform" (and the view from the Campidoglio is the Campo Marzio! Wow, Quondam and the Campidoglio actually have something very much in common. Does that mean Quondam is also a reenactment of an "urban viewing platform" My goodness, will reenactment wonders never cease?).
Ah reenactment! I'm so glad you're there, especially since so many so easily forget.
2002.11.14
Olney's oldest house


2002.11.15
Civil War Soldiers and Sailors Memorial
Rodin Museum 1929
Calder Exhibit
Philadelphia Museum of Art/Duchamp


2002.11.20 12:17
Ben Franklin, etc.
The next museum on the Benjamin Franklin Parkway, Philadelphia will be the Alexander Calder Museum, with Tadeo Ando as design architect and MGA [the quondam Mitchell/Giurgola Architects, Philadelphia office] as architects of record. The site of the new museum is across the Parkway from the Rodin Museum. Calder is from Philadelphia. His grandfather did the sculptures on Philadelphia City Hall (at the foot of the Benjamin Franklin Parkway). His father did the Swan Fountain at Logan Circle (centerpiece of the Benjamin Franklin Parkway). And for years now an enormous Calder mobile entitled Ghost hangs above the Great Hall of the Philadelphia Museum of Art (PMA, at the head of the Benjamin Franklin Parkway). Years ago, tour guides of the PMA, when discussing Ghost, invited visitors to look out the PMA's huge "urban viewing platform" windows and note the order of "Father, Son, and Holy Ghost."
I visited the site of the forthcoming Alexander Calder Museum last Friday. The site is still a park lawn, but there is now a Calder mobile on pedestal gracing the site as well. Additionally, there is an exhibit of three Calder sculptures within the forecourt of the Rodin Museum. I found myself really admiring all these sculptures because I now see a 'real' virtual architecture in them. I took lots of pictures, and I will put together an online display soon.


2002.11.21
Franklin kite flying site, etc.


2002.11.21 14:04
what a difference 250 years make
Well, I did make a pilgrimage this morning down to Ridge Avenue and Buttonwood Street, Philadelphia, where "legend" has it that Benjamin Franklin flew a kite with key and discovered that lightening and electricity are the same thing 250 years ago. Although in an area still full of a lot of old warehouses, many now facilitating Chinese/Oriental businesses relative to Chinatown several blocks south, the "historic site" is an otherwise somewhat decrepit part of the city. There actually is an empty lot just east of Ridge Avenue on Buttonwood Street, and that's what I took pictures of. Otherwise, there is nothing at all to suggest that something of quite modern significance ever happen at this place, except perhaps the rather large outdoor electrical power station enclosed within a high chain-link fence a half block south on the other side of Ridge Avenue.
I had somewhat heightened expectations of my visitation since deciding to go yesterday morning. Last night I was watching a movie over a friends place, and I asked, "Do you know where Buttonwood Street is. I think it's right around Ridge and Spring Garden." My friend didn't have any idea, but offered me a SEPTA (Southeastern Pennsylvania Transportation Authority) map. I found Buttonwood Street a block south of Spring Garden Street, and I thought I actually knew the site because I thought it was where a building I finally photographed this past February was. This building/warehouse is one I've known since my college days, and I always admired it because of its facade's striking similarity with the facade of Venturi and Rauch's D'Agostino House (1968, unbuilt). I then found myself even wondering whether Venturi actually knew this warehouse because, just maybe, Venturi had once gone to make his own pilgrimage to Ridge and Buttonwood. Alas, the warehouse I know is not at Ridge and Buttonwood, rather at a similar intersection with Ridge Avenue a block north of Spring Garden Street. It should be noted that Ridge Avenue is one of Philadelphia's old zig-zagging diagonal streets in contrast to the otherwise planned grid of streets, off the grid because it follows an old "Indian" trail, and in Franklin's time was the main route out of town to the north-western countryside.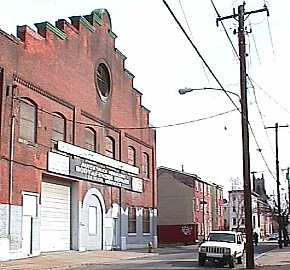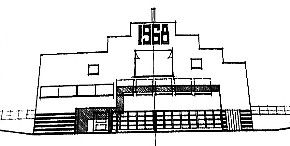 I now find myself wondering what all this "says" about us in the beginning of the 21st century, a people so reliant on electricity, yet otherwise largely oblivious to how we got that way. There is a tiny triangular block just south of the empty lot on Buttonwood Street with a small used-car business on it. I knocked on the office door, and a tall black Muslim (I assume by his garb) man in his thirties answered. I asked him if heard of the story of Benjamin Franklin flying a kite and "discovering" electricity. He said, "I don't think I ever heard dat." I told him Franklin did it here over 200 years ago. He said, "What? In dis building?" I said, "No. Like over there." Then he asked in a kind of mean voice, "Why you sayin' all dis?" I then smiled, but I didn't say much more.
As I drove home up Broad Street I thought to myself in irony, "Well that was a swell way to celebrate Quondam's 6th anniversary." And then I thought, if that's what Franklin's kite flying site is like after 250 years, God only knows what Quondam will be 244 years from now.
2002.11.24 17:48
Re: what a difference 250 years make
You're kind of exactly right when you suggest that maybe there are too many places of "historic" significance in Philadelphia, and it is interesting that you bring to mind Piranesi and his map of the Campo Marzio because that map/plan indeed records so many of ancient Rome's historic sites even though almost none of them still existed in Piranesi's time. Moreover, it is worth also keeping in mind that Piranesi was delineating a place/city more than 1400 years after the fact. It seems almost impossible to even speculate whether, for example, the old "Indian" trail of Ridge Avenue will even still exist in 3402. Then again, it would be fun to imagine what some future Philadelphia Renaissance or Baroque period might be like. Note Franklin and Piranesi are near contemporaries; Piranesi died 1778 while Franklin was in France.


2002.11.25
Remains of Whitemarsh Hall 1920


2002.11.26 11:33
"Adventures of the Great Isfahan"
The following are excerpts from "Grandeurs and Miseries of Whitemarsh Hall" by Fiske Kimball, a text that is presented in full within chapter 16, "The Stotesburys," of Triumph on Fairmount by George and Mary Roberts.
"Adventures of the Great Isfahan"
Down the long salon stretched a superb Isfahan carpet, on which too often cocktails were spilled.
Mrs. Stotesbury had sent to the Museum for the great Isfahan rug, which came back next day much in need of cleaning.
His will singled out the English portraits, the tapestries, two sets of furniture, the great Isfahan rug and the porcelains from Duveen to be sold.
The result of the Metropolitan's taking Whitemarsh Hall was indirectly to enrich the Philadelphia Museum. The Stotesbury tapestries, the fine furniture and the great Isfahan, which had remained at the house, were sent at once to the Museum as loans.
In November [1944] the remaining objects which Mr. Stotesbury's will had directed should be sold were removed from the Museum for an auction in New York. It was a butchery. One Romney, the Vernon Children brought $22,000, but no other painting fetched more than $10,000. The magnificent fifty-three foot Isfahan brought only $5,000. It had cost Stotesbury $90,000.


2002.12.10
Philadelphia Museum of Art


2002.12.15
Philadelphia Museum of Art


2002.12.27
Philadelphia Museum of Art