thinking
Yeah, the monk is right. If you really are gardening and sweeping (gosh I love sweeping) you really aren't thinking of other things. Like when I actually do think of the others there before me, it's usually, "Huh, I've been here all morning and this is the first time today I've thought of the other spirits. Hi guys!"


thinking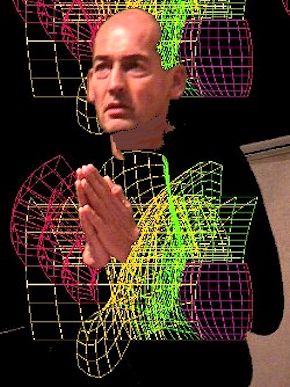 "Please, one question at a time. Can't you see I'm thinking?!?"


twice
How about a picture of me playing minature golf along the Iron Curtain in 1963. I had an omlet in Iceland back then too, twice, same waitress both times even.


thinking
I'm all for having my thinking (about architecture) change via elucidating theory.


thinking
You know what changed my thinking about Tafuri? It was the discovery that everything he writes about Piranesi's Campo Marzio is plain wrong and thus a bunch of misinterpretation.


thinking
And you know what changed my thinking about today's ongoing architectural theorists? It's their manifest ignorance via their ignoring.


twice
Went to David Batchelor: On Chromophobia last Thursday night at Arcadia University. The talk was in conjunction with Eliasson's Your Colour Memory also at Arcadia University. Chromophobia was named twice in Artforum as a best of.


thinking
Yes, it seems to make sense that de-territiorialization ultimately registers a re-territorialization, but it is the effect of de-territorialization (on one's thinking) that is the most important aspect here. And I guess you could say that new mode of thinking is what then shapes the new "territory."
thinking
Trust me, de-territorialized thinking isn't necessarily brilliant, although for the most part uninhibited.


thinking
Related to Oppenheim, randomness effecting architecture is definitely nothing new, and there is real potential for folly in architect's now somehow thinking that they can even 'design' for the randomness.
Within drama there is definitely such a thing as over-acting. I think there is also such a thing as over-architecting.


thinking
It's a book about all kinds of style. The working title is über œuvred e suicidal. Piranesi hires a Quaker lawyer to fix historical inaccuracies while the Quaker lawyer hires Piranesi to design an historically accurate house. Neither knew of the other's true propensity--playful double-making meets good-natured honesty--yet they discover themselves to be a formidable team. You'll think you're laughing and you'll laugh about thinking.


thinking
As to books, I had and still have many, and at this point I'm seriously thinking of taking a lot of them apart and then mixing and rearranging all the various pages into a series of new books. Maybe I'm foolish, but I anyhow imagine there's a great untapped realm beyond the status quo.


thinking
If I was in Munich with a car I'd drive out to Altötting and then to Schloss Peising to finally meet the Baron von Ow and see the Chinese Room and then play a few rounds on his golf course.
Thanks to this thread, I and the von Ow family cook during WWII were just discussing when we might get some Weisswurst from the authentic German deli just down the road. I'm thinking next week.


twice
Funny how I never laughed while (twice) reading Robbins' "Concrete Comedy: A Primer." Not a single good joke. No innuendo. Campless. Ironically, there are some laughable moments, like 'Big Finish.'


thinking
I have cabinets to redo. Been thinking of collaging them, with pages from the weekly supermarket flyers even. Future cabinet discussion: "Look! A can of peas was only 69 cent back then."


thinking
There really is no evidence that Michelangelo knew the rules so well that he thus also knew best how to break them. That logic is more indicative of latter-day, wishful-thinking art historical explanation.
Michelangelo was more of a reluctant architect; architectural commissions were generally not something he sought. Sculpture was his real passion, and I suspect it was his sculptor's eye that really led him to use/design architectural moldings the way he did.