thinking
"What Stein discovered was a writing style that celebrated its grammatical mistakes. In her most radical prose, she managed to make us conscious of all the linguistic work that is normally done unconsciously. We notice the way verbs instantly get conjugated (even irregular verbs), the way nouns naturally become plural, and the way we amend articles to fit their subjects. Stein always said that the only way to read her writing was toto proofread it, to pay acute attention to all the rules she violates. Her errors trace the syntactical structures we can't see, as our "inside becomes outside."* Stein showed us what we put into language by leaving it out."
* This isn't as strange a method as it might seem. Ludwig Wittgenstein hit upon a similar method for his philosophy, which, like Stein's writing, was interested in the uses of language to the exclusion of almost everything else. Wittgenstein once said that he worked by "mak[ing] a tracing of the physiognomy of every [philosophical] error." Only by mapping out mistakes could he see how best to proceed. Samuel Beckett also subscribed to Stein's literary approach. "Let us hope that a time will come," Beckett wrote, "when language is most efficiently used where it is being misused. To bore one hole after another in it, until what lurks behind it--be it something or nothing--begins to seep through; I cannot imagine a higher goal for a writer today."
--Johan Lehrer, Proust was a Neuroscientist (2007), p. 164.
Here we have 'modernist' thinking.


twice
I was somewhat surprised to not find any mention of Life-Savers in Vanishing Point, but not as surprised as when I, after the fact, realized that I twice wrote about "life savers" on 27 June 2005...


thinking
Alberti's thinking appears more Platonic.
Michelangelo's thinking appears more Aristotelian.


thinking
And what do the architects that "must lead with new pre-fab thinking" get?
An imperative is pretty useless without an incentive, isn't it?
Utopia is dead! Long live Utopia!


thinking
"The errors that Robert Adam detected in Palladio's drawings for the reconstruction of the 'Baths,' published in 1730 as Fabbriche antiche disegate da Andrea Palladio, encouraged a dismissive attitude to Palladio and led him to question the accuracy of the renaissance as a reliable recorder of classical architecture. It became easy for the brothers to delude themselves into thinking that they alone possessed a deep insight into the antique and had the knowledge necessary to correct the errors of renaissance draughtsmen. But such an arrogant stance was more a public one, which did not stand in the way of their serious study of the renaissance or their need to borrow directly from it, from time to time. The enormous variety found there appealed to them as much as the inventive classicism of the antique." --Tait
Just as an aside, Fabbriche antiche disegate da Andrea Palladio was used in the formation of Roma Interrotta Sector VI.
twice
Diva, next door, is from Jamaica, and the guy out back across the driveway who is always fixing someone else's car(s) looks distinctly of somewhere in south central Asia, but he's here from Trinidad, and he told me the Indians (that bought their house from one of my first cousins twice removed) themselves moved back to India.


thinking
As to architecture profaned, I'm thinking of something along the lines of how html and the internet profaned publishing.


thinking
And here I've been thinking that Bruce Goff and SOM were the most influential American architects of the latter half of the 20th century.
Tschumi in the Show Me State, like Hannibal 100 miles morph of Santo Ludivico. Yes, rinse and repeat. Or just repeat and repeat.


thinking
"busy busy, busy scissors"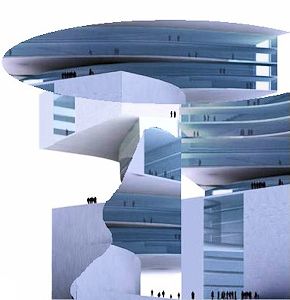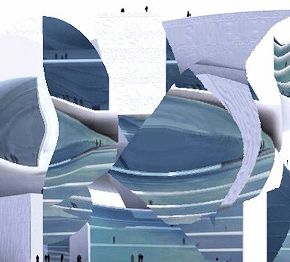 new designs for The Old School of Thinking


thinking
treekiller, who are these folks creating stuff in 2nd Life and then thinking it can work in the physical world? Surely their numbers must be legion to constitute the biggest threat.


thinking
I'm thinking of designing North Philly as hyper-suburban. Versailles plus ultra even.


twice
First of all, thanks for sending a wonderful letter. I've now read it twice and it's a great compact story, and full of lots of stuff I didn't know before.