thinking
More recently, I'm just beginning to think about mediation in terms of "the function or activity of an intermediate means or instrumentality of transmission." In this case, thinking about the virtual and digital as an "instrumentality of architectural transmission."


thinking
Still thinking/wondering:
Is parametricism really only valuable if it's strictly enforced? There seems to be a weird irony there then, if that's the case.
Also, has the monotony really been replaced? (Hence, "same difference?")


thinking
Patrik, it interesting that I cited a passage from your book(s) that is now contrary to you view. (What were the chances of me finding exactly that?) I wish your new position could now be parametrically implanted within the text to see how it then changes the entire text. Was it (a) parametric thinking (process) that made you change your mind?


thinking
Also, my posts do not address politics, rather (parametric) design (thinking).


thinking
I right away thought of Arata Isozaki's work. Thinking now about Isozaki's continuum of work, there is a certain (very high quality but nonetheless) chameleon aspect to it all, not too dissimilar than the practice of Philip Johnson.


thinking
Orhan, in thinking more about it, the idea of a virtual biennale kind of came to me because I realized that your last two posts about the Bi-City Biennale are being written (I assume) from Los Angeles. That got me thinking about how my virtual experience of the Bi-City Biennale through your posts is even more virtual than I first imagined.


thinking
Nam, I wasn't thinking about tools or better mastery. It's more the notion that an un-acted-upon idea is by default something you haven't done yet. And when an old idea is finally acted-upon, you're then doing something you haven't done before, and therein lies the newness, the innovation. I also think there's something in the expression, "Gosh, why didn't I do this sooner!?" often said after a latent notion is finally implemented.


twice
So far I've read the chapter on Piranesi, "Instauratio Urbis: Piranesi's Campo Marzio versus Nolli's Pianta di Roma" (twice), and the chapter on Boullée, "Architecture as a State of Exception: Étienne-Louis Boullée's Project for a Metropolis."


twice
My mother is in a nursing home since the beginning of September, and I go to see and help her twice a day.


thinking
As I'm thinking back to those conversations, it's kind of refreshing how much I'm able to remember about them. I started our first conversation...
...by telling him that (because I knew he too was going to be at the conference) I decided to read something written by him in case I might meet him. I read "Untitled: The Housing of Gender." I told him I had to stop reading it because it was making me uncomfortably question too many things about my own 'housing' and 'gender.' He broadly smiled in agreement because I seem to have gotten exactly what the essay was about. And from there we just started talking about all kinds of stuff.


twice
As memory serves, I've only met her twice. Once at a bon voyage party and once at a small dinner. Both in late summer 1993 and both at the same house in Manayunk, Philadelphia.


thinking
Anyway, this notion of exterior/interior got me thinking of a 1979 school project, a Clay Workers Co-op for a site in Olde City, Philadelphia, which manipulates a solid geometry via carving out, which I see as not quite the same as the present-day solid geometry manipulation. And it's exactly what makes that difference that I would like to more fully understand.


thinking
I know, it's like "the public wants beauty" is really just a mask for cheap thinking.


thinking
Does an increasingly insular culture breed increasingly insular thinking?


thinking
I actually woke up this morning thinking about something very close to your question (related to a something Lebbeus Woods once asked in response to something I wrote: "Does Koolhaas even sketch?").


thinking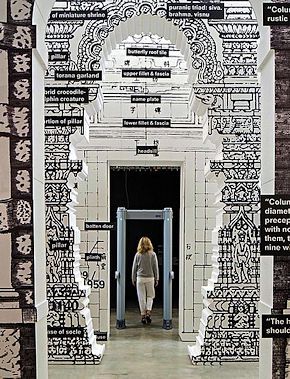 You could say that a significant portal that is missing from the above exhibit is precisely that portal engendered by the internet and html that allows me (and everyone else, for that matter) to enter exactly what I'm thinking right now. I don't know if there's ever been a portal of entry that is so vast and so open and for the most part so free of restriction.