2000.06.23
new books




2006.01.26 12:19
Thesis Semester [blog] 25 years ago
I was very surprised to briefly see Verrocchio's The Baptism of Christ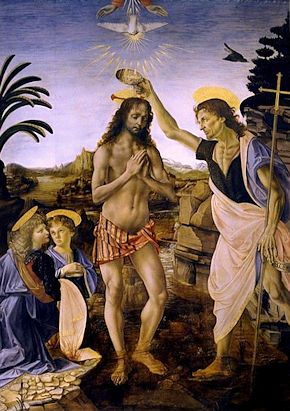 as the first sequence of Charlie's dream in last night's episode of Lost.
Surprised because I spent some time yesterday thinking about della Francesca's The Baptism of Christ,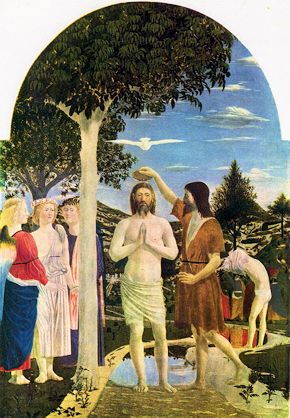 which is the painting Dave used as formal/symbolic inspiration for his Art Historian's Study Center thesis design.
I really wish I could remember all the things D said about the painting. All I do remember is that D, in his thesis, strove to represent the spatial duality of the painting in his building design.
D is afraid that K and G are not going to get what he want's to get out of his thesis.
1. Virtually Carved in Stone: a masterplan of mistakes and inversions. This is now the (final) title for the first digital book on Piranesi's Campo Marzio. After nearly a week of html organizing the Campo Marzio notes and proceeding with some new Campo Marzio redrawing, it seems the easiest and quickest book is one dealing specifically with the issues of mistakes and inversions. Many notes already address the notions of mistakes and inversions.

2. Diptych: architecture and thinking twice. A title and a concept for a spontaneously creative book full of actual, metaphoric and virtual diptychs.* Perhaps including a tribute (of sorts) to DS and his architecture; his thesis being inspired by the implied diptych that is The Baptism of Christ--was it della Francesca's or Verrocchio's? Or was it both!?
Offhand, liking the notion of abusing the model collection, generating new buildings, "hybred-ing" two different buildings at a time.
Just now I thought of perhaps changing Diptych to Duplicity.

3. The Architecture of Being [FOG].
First notoriety comes from the ripple effect she caused in the book publishing business due to her finding copies of letters JAW wrote while incarcerated.
Then FOG's art and architecture talents are discovered.
The Rita Novel architectural analysis essay is a complete intellectual farce/spoof positioned just the other side of the real.
HA writes "Rita Novel or Crystal Vanish?"
Infant and childhood influences: D&G, obscure October articles, James Merrill, Wittgenstein, the plays of George Particles, Casa Vogue?
Disclaimer: This is a novel book (on architecture) where the small percentage of truth is much stranger that the extra large percentage of fiction.
Go Go Home museum.
World Trade Center towers addition.
Corporate offices for Ebony magazine
Parent's house in Southwest Africa.
House for a couple/encrytomology experts--very rich.
Suburban sprawl master plan.
Casino Collagio, Las Vegas.
Wavelength Casino and Hotel, Atlantic City.
Manly Beach house.