2009.09.18 16:54
Your Ideal City mash up....
Neuschwanstein + Las Vegas + Atlantic City + an Indian Reservation + Monte Carlo + Dubai + Angkor Wat + Pompei = "My kind of town."


2009.11.20 15:34
The current state of Architecture Theory
Here's what comes to my mind when I (too) wrestle* with then what.
I made a bunch of collages during the summer of 2001. These were done for art, and not for architecture, but there was some architectonics within some of the collages.
Last year there was "has the sun finally set on oma?" thread here at archinect/forum. To join in the discussion I wanted to post images of a couple recent OMA projects that I like. And while finding the images online and seeing the projects again and trying to figure how to explain why I like the projects I noticed a kind of strange resemblance to two of the collages I did in 2001. (I did not think that maybe OMA saw the collages online.) What happened at that moment of 'recognition' was an insight into how I myself could have found architectural inspiration in the collages.
*"Eternal Wrest" is the last chapter of Architecture in Critical Condition.


2009.11.20 15:46
The current state of Architecture Theory
similarly...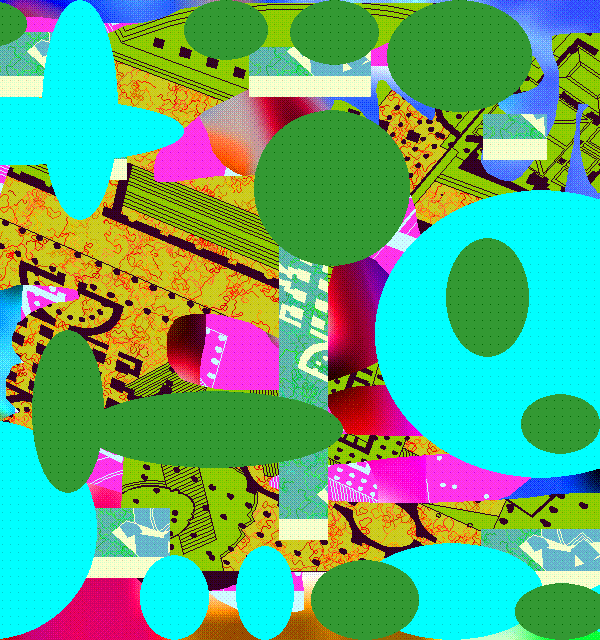 Quaestio Abstrusa Background No. 191
28 April 2001
manipulated digital image file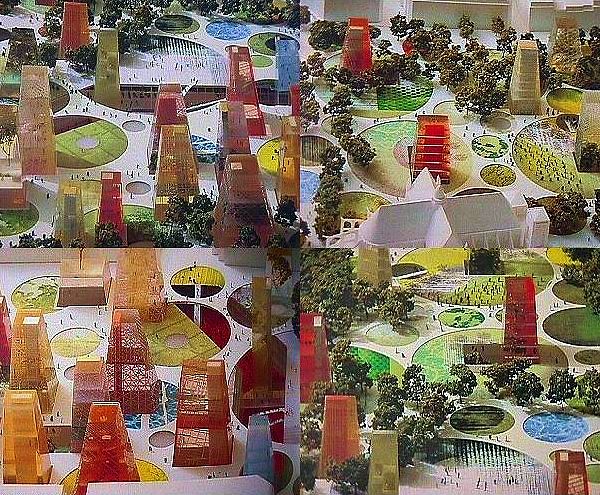 OMA/Rem Koolhaas
Quartier des Halles
2003 2004
2010.05.12 13:13
Neil Denari vs. Diller Scofido Renfro vs.
[On 2010.05.11 Urbanist wrote:
btw, this may be more complicated: all of these firms except Denari (DS+R, FOA, MVRDV, OMA and UN Studio) all had at least one principal teaching (or studying) at the GSD in 1991, which begs the question, who stole from whom...
...to which I replied:]
In summer 1991, Harvard's Loeb Library purchased a drawing and slide analysis of Le Corbusier's Palais des Congres a Strasbourg.
3121d
3121g
3121j
3121l
3121r
3121t
3121z
3122f
3122i
3122l
3122o
3122q*
*uncanny


2010.05.12 16:24
Neil Denari vs. Diller Scofido Renfro vs.
House 10:Museum (Hejduk), 1963-67
Palais des Congres a Strasbourg (Le Corbusier), 1964
Palm Bay Congres Center, Agadir (OMA), 1990
Palais des Congres a Strasbourg analysis (Arcadia), 1991
Deux Bibliotheques Jussieu (OMA), 1992
Educatorium (OMA), 1993-97
VPRO (MVRDV), 1993-97
Azadi Cineplex (FOA), 1996
Virtual House (FOA), 1997
2000.05.06
I have a copy of the final court statement clearing Koolhaas of any plagiarism of a student design backed-up on some CD somewhere.
2011.12.06 21:36
Frank Gehry
2008.08.23 21:06
peter's canon
Personally, I like seeing all the study models of various projects by various architects. I like it because it clearly demonstrates just how pliant architectural designing can be. And I seriously consider the notion that it may well be Gehry that best introduced architectonic pliancy to the profession.
Is architectonic pliancy in somewhat sharp contrast to Eisenman's method? Up to a certain point (in time) I'd say yes. And when Eisenman's work started exhibiting some measure of pliancy, that's where I start to see Gehry's influence.
Have Gehry's designs of late become somewhat predictable and/or seemingly uninspired? Perhaps the pliability metaphor applies here too; perhaps the pliancy has been lost for being stretched too much and too far.
----------
pliant 1 : yielding readily without breaking : bending or folding easily
About a month ago, I purchased Constructing a New Aganda: Architectural Theory 1993-2009. The first essay in the book is "Architectural Curvilinearity: The Folded, the Pliant, and the Supple" (1993) by Greg Lynn. Upon seeing this title I immediately thought of the post above. I have little doubt that it was a long ago reading of this essay (as I used to own several books by Lynn, although now all sold off at eBay around 8 years ago) that lodged the connection of Gehry's architecture and pliancy somewhere in my brain. With the 2008 post, however, I was thinking more along the lines of the pliacy demonstrated by the plan of Gehry's Wagner House (1978)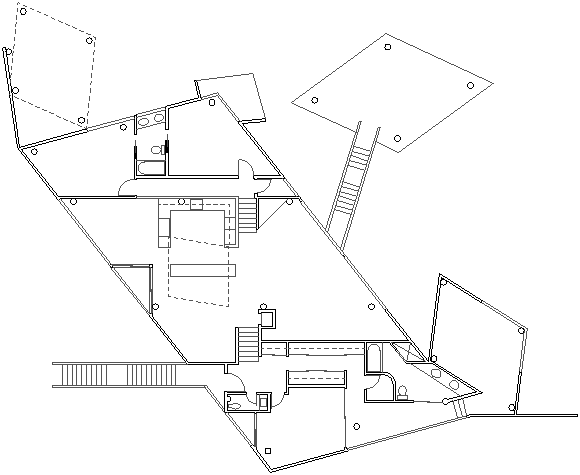 and the 3-dimensional execution of this plan as well. I have also wondered if the peeling wall detail of a 1970-4 Venturi and Rauch project is percursor to Gehry's pliancy.