2001.01.15
Really Good Architecture
One of the new architectures that exists today, and, moreover, an architecture not designed by an architects and not even buildings, are those 'places' in cyberspace that do much more than actual buildings of their type could ever do. I'm referring particularly to amazon.com and ebay.com as architectures that far surpass what a physical book store or auction house can do. These are new architectures not in that they replace the existing architectural paradigms, rather they provide whole new means of buying and auctioning that a physical building could never provide.
I believe that if an architect today says that places in cyberspace can never be considered architecture, all he or she is really doing is manifesting a huge denial, and, moreover, just one more denial added to the continual history of things that architect's have tried to deny.
I use amazon and eBay frequently. I have both bought and sold items (mostly books, even rare volumes). In fact, just this morning the postman delivered a Piranesi print, a print which I successfully bid on last weekend at eBay. It was the architecture of eBay that brought me Piranesi's engraving of ancient Rome's last Imperial artifact. I was confident in bidding on the print online via a written description and two digital images because of the Piranesi research that I have done and continue to do at home, online, and at university libraries. [By the way, Piranesi is a great proto-virtual-place architect.] This print of the sarcophagus of Maria, wife of the Emperor Honorius, was originally published within Piranesi's Il Campo Marzio (1762), specifically at the head of the dedicatory letter to Robert Adam. In true inversionary fashion, Piranesi cleverly placed an image of ancient Rome's last Imperial artifact at the beginning of the Il Campo Marzio publication. This print is the latest acquisition of Quondam - A Virtual Museum of Architecture.
Architecture is a medium, a facilitator, and a container, and all reality is relative to the vastness of its container.


2001.01.15
[virtual] museum
Does anyone know where the paintings of New York's Metropolitan Museum of Art were kept during W.W.II?
Answer
It's all gone now, but it really was spectacular. My brother first took me there in the early 1970s, just after he got his driver's license. I have a few pieces of the place in my dining room, basement and garage--trophy's of teenage vandalism. One of the pieces is a 4'x1.5' flat slab of marble that in turn became the support for one of my 1984 (metabolic) artworks: Anonymous Saint In Bikini While Jesus Is Walking On Water.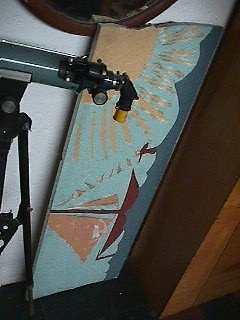 2001.01.26
irony and feeling
To answer your question, I'm trying to come to grips with the notion of why European colonials didn't simply accept the architectures that were indigenous to the lands that they (the Europeans) colonized. I see this as a negative action because I think a case can be made that many of this planets indigenous architectures are now virtually extinct because of Western colonialism/imperialism. During the first half of the 20th century, while large parts of the world were still colonies of Europe, Western modern architecture or the International Style (again a term used more for convenience) continued the global domination of Western style and furthered the extinction of indigenous architectures.
As much as I like Classical Greek and Roman architecture and Modern architecture, I nonetheless see it as a tremendous loss to architecture in general that these styles are now so global at what seems to be the expense of so many other architectures. This is why I am less and less tolerant of architectural criticism/theory that goes to far as to say "this architecture here is good" but "that architecture over there is bad."
In a recent post, you mentioned that commercialism may be readily acceptable to the post W.W.II generations, but I have to wonder whether the end of colonialism and the US civil rights movement are a better benchmark for the acceptability of diversity in all its guises.
ps
When I first thought up the quote, "The whiter humanity thinks, the more it manifests extinctions," I was thinking of architecture.


2001.01.26
irony and feeling
And I think you assume too much that I'm being "post-modern". I was speaking about architecture [and] using other terms for convenience. Everything you said was about broader cultural issues, but you said nothing about the architectural issues I raised. You changed the subject.
I am not seeking apologies or ways to change the past. I just don't want to see present or future architecture's succumb to further "Western" theoretical dominance, especially against diversity.
You bring up assimilation, but you don't mention that the assimilation of colonialism was a forced assimilation. In architectural terms, the 'purism' of early modernism was/is a form of assimilation in the extreme, namely purge. Global assimilation is one of today's dominant cultural aspects, but extreme assimilation like that of the last century is not a lasting aspect of humanity.
Part of my thinking is also given as a kind of preparatory warning. With genetic engineering becoming more and more a common science, humanity will find itself in the next century or so having to think real hard about diversity and individuality. Some forethought in this area is certainly not going to hurt. Imagine what might happen if the genetic engineers of tomorrow were trained to design like today's architects.
2001.02.04 11:56
diversity and entropy
This leads me to then ask, what exactly was the 'dominant' feature of Modernism (in architecture) when it was not a diversity of behavior, or, to but it in your terms, when Modernism was 'classical'? Essentially, I want to know if you can aptly describe when and how exactly architecture was at its most modern, that is devoid of any diversity.
ps
I agree with you that Baroque architecture is not a product of 17th century politics, because Baroque architecture is more the product of 16th century politics (especially politics outside Italy that destabilized Italy). The Baroque of the 17th century is really just a reenactment of its illusory 16th century self, meaning the 17th century Baroque mirrors the 16th century Baroque. To understand the Baroque fully, you must learn to recognize both the illusory self of the Baroque and the Baroque's mirrored reenactment of its illusory self. For reflection of the Baroque to be true requires the Baroque's reflection to be Baroque as well.


2001.02.27 11:09
repressed history?
"Since about 1960, Modern Architecture, or the International Style and its related models, has changed dramatically. It has evolved into a new style, a "Late" version of its former [or quondam] self, and, at the same time, has undergone a mutation to become a new species--"Post"-Modern. Such changes in architectural history have occurred before--Late-Minoan, Late-Gothic, Late-Baroque are all examples of historical periods when a previous style was exaggerated--and Late-Modern architecture also exaggerates the period it comes after, the Early- and High-Modern architecture produced from 1920 to 1960. By contrast, Post-Modern architecture is a more definite split from preexisting tradition, just as the Renaissance broke away from the Late-Gothic: but it is a selective, not total, rejection of the previous era. Post-Modern architects are trained, after all, by Modern architects, and they have to adopt contemporary constructional methods; so there are several important ways in which they too are an evolutionary species."
first paragraph of "The Evolution and Mutation of Modern Architecture" in Charles Jencks, Architecture Today, 1982 (published in Britain as Current Architecture).
but then again...
"An essential reason for using symbolism today is that it can provide a diversity of architectural vocabularies appropriate for a plurality of tastes and sensitive to qualities of heritage and place. This use suits the need to respond in our time to both mass culture and pluralistic expression. Today the world is at once smaller and more diverse, more interdependent yet more nationalistic; even small communities seriously maintain ethnic identities and carefully record local history. People are now more aware of the differences among themselves yet more tolerant of these differences."
Robert Venturi, "Diversity, releance and representation in historicism, or plus ca chance..." in Architectural Record, June 1982.


2001.03.10 10:48
Re: George Washington's Presidential...
I recently read four chapters on the 'preservation' of 'historic' Philadelphia (temporary capital of the United States 1790-1800) in L. Mumford's Highway and the City. I actually found out about these texts from John Young vis-à-vis 'talk' about reenactment and "re" words. It seems that Mumford was lecturing at the University of Pennsylvania in the late 1940s and that was when the historic districts around Independence Hall (actually the Pennsylvania State House) were being newly planned and 'preserved'. I was surprised at how unprecedented American historic preservation was at that time, and then how the preservation actions taken in Philadelphia in turn set America's historic preservation precedents and standards. Growing up in Philadelphia in the 1960s and going to architecture school here in the 1970s (the Bicentennial and all that, like Legionnaire's Disease) made one hyper aware of historic preservation; I didn't think then at how 'new' it all was.
Another interesting factor I found out is that half of Philadelphia's historic district is run by the Federal government and half is run by the State of Pennsylvania--I'm pretty sure Independence Hall is still owned by Pennsylvania, and the ruins of the Morris House are within the part run by Pennsylvania as well.
Like Franklin Court (a few blocks away) designed by Venturi and Rauch in the early 1970s, the Robert Morris House is just another example of Philadelphia's great collection of premiere virtual houses.
You'd think I'd seen it all here to many times already, but the truth is that with each recent visit to Philadelphia's Historic National Park (the area run by the Federal government) I become more impressed by it each time I'm there. Maybe it's because I'm getting older myself and like to see things that endure time, but I also think it's because a nice job was done in the first place. Independence Mall (the area run by Pennsylvania) was oddly dear to me as well, even though most didn't like it because it really was lifeless, thus it is now being redone. Maybe the best plan for the Mall now is for it to be redone every twenty years or so--American [metabolic] Dreaming at its best?
2001.04.08 10:02
Re: mil
Regarding the Roman (mythological) origins of Rome I do have some knowledge, however.
It began with a rape, specifically a divinity, Mars, raping a (Vestal) virgin, Rhea Silvia.
This rape engendered twin brothers, Romulus and Remus.
Then came fratricide in a fight for domination. Romulus killed Remus and thus the 'Eternal City' is hence known as Rome (rather than Reme).
To populate his namesake city, Romulus devises a massive date rape, culturally depicted as The Rape of the Sabine Women. [August 18, same date as the feast of St. Helena -- this is the only clue I'll provide now as to the 'Roman' Christian inversion of all the 'facts' here outlined.] So here we have the son reenacting the father via the act of rape all in the cause of procreation of citizenry.
A year or two after the rape of the Sabine women, the Sabine men decided to avenge their daughters and attacked Romulus and his urbs. Romulus remained victorious, and paraded his enemies armor to certify his 'triumph', hence the many times reenacted Roman Triumph.
So goes the 'myth' of the origins of an 'eternal' city and then the origins of an empire. In concise terms it's rape, fratricide, rape reenacted, triumph, triumph reenacted [and then Imperial Rome as a whole is reenacted by Roman Christianity, yet in an inverted fashion].


2001.07.23 10:15
aesthetic correction
I'm almost finished reading Gerhard Kopf's Piranesi's Dream...
...a excerpt I thought this list might find inducing:
"But even worse was to come. I was assused of reveling in the ugly. What humbug! The theory of the fine arts, the legislation of good taste, the science of aesthetics were already highly developed and thoroughly refined in my time. Only the concept of the ugly, although they touched upon it everywhere, had remained behind. And actually what is ugly exists insofar as what is beautiful does. What is ugly comes into being from and with the beautiful. It is indignant at what is beautiful and likes to form an alliance with what is comical. In Nature what is ugly exists as little as what is beautiful or straight lines do, and it is a mistake to consider disease a cause of what is ugly. The realm of the ugly is much larger than the realm of sensual phenomena in general. Beautiful and ugly are not value opposites, rather at best opposites of stimulation. Concerning anything that is ugly it must be said that the relationship to what is beautiful that is neglected by it is included. Only what is ugly guarentees the aesthetic correction of tradition."
Just think about how true (and perhaps even axiomatic) that last sentence really is.


2001.07.23 10:57
Koolhaas reenacting Kahn/Tyng?
There is an striking resemblence between the Koolhaas/OMA Seattle Public Library and Louis Kahn's and Anne Tyng's Muncipal Administrative Building project from 1956-57, a design for downtown Philadelphia.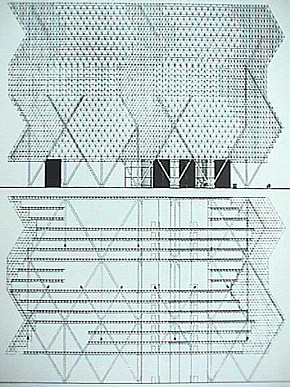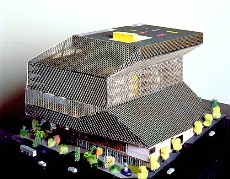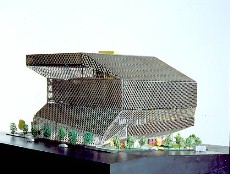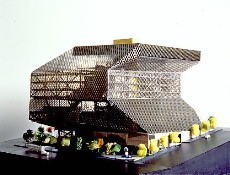 Could it be that Koolhaas has moved on from reenacting late unbuilt Le Corbusier and American Mies, and is now finding inspiration in early unbuilt Kahn?
2001.08.02
/reenactionary - more topics
1. cardo - decumanus - Roman camp; Ichnographia; Philadelphia; go to City Hall tower.
2. the crucifixion of St. Peters - the inversion of Christ's crucifixion; the Porticus Neroniani as inversion of St. Peter's Basilica; is this the origin of Piranesi's overall inversionary reenactment theme? (It certainly could be) -- this could certainly lead to the double theater of St. Peter's Square; the double inverted theaters of the Ichnographia; then the Bernini double play; the Baroque ending (for sure).
3. Stirling by Giurgola - the ACLU building and the early Stirling & Gowan campus buildings.
4. Aldo Rossi- In Memorium -- I just found out tonight that I may have discovered the Plattus 'Triumph' article the very day that Also Rossi died. This is a powerful segue into the whole triumphal way story including the axis of death. I could prepare all this for publication 5 September, 2001.
5. "Viva Villa d'Este" - what the classic age of Las Vegas reenacts.
6. Las Vegas reenacted - this is a picture essay of Atlantic City.
7. dies sanguines - the whole story: ancient Ballona; Santa Croce; 20 March 1956; 20 March 1980; 20 March 1997--this then could lead to the "sacred" new history of/in Tacony Creek Park; collecting sacred wood on the feast of St. Barbara.
8. the local acropolis, the Parkway, Founder's Hall, the Merchant Exchange.
9. Bryn Athyn - the whole story; kind of like 'madness'.
10. "Madness" - the Ludwig II story; Passion Plays.
11. cloning - is this exactly what makes reenactment a topical issue "NOW"?
12. chronosomatics - BIA.
13. check quotations from Homo Ludens for possible reenactment connections vis-à-vis the Ichnographia; there may actually be a better connection between Ludens and /recombinant.


2001.08.02 19:03
Guggenheim reenacts the Vatican


2001.08.09
The Idea of History, etc. 4555


2001.09.07 08:53
Re: Roman freeways
I'm by no means an expert in Roman history and design, but the Romans did have an extensive road system throughout the empire. I'm sure there is all kinds of information out there on this topic. When it comes to elevated transport systems, I think of the Roman aqueducts. Not a people/vehicle mover, but a 'freeway' of water nonetheless. I would say that the largest factor of ancient transport is that most people back then still moved from place to place on foot. And the largest number of people to travel great distances were aptly the foot soldiers.
On the urban issue, at least in Rome, it is said that by later imperial years (the second century AD and thereafter) one could traverse the entire city (or at least the Campo Marzio) under cover of roof. There were a great many porticus which were public loggias of a sort. Many a porticus had its distinct character, and some, kind of like today's malls, were great places to shop. You might be able to stretch the notion of a network of public porticus into the notion of a urban pedestrian freeway.
2001.09.07 09:44
Ambrose buildings, even today
I was not aware of the Ambrose strategic church building program at Milan. Thanks for letting me know about it.
There are three (rather large) Catholic parishes in the Philadelphia neighborhood of Olney, St. Ambrose, St. Helena and The Incarnation of Our Lord. They are all just over 75 years old now, and all within a section of Philadelphia where the demographics is now changing rapidly into incredibly dense multi-culturalism. I've lived here over 43 years now, so I well know the local history. Only recently (Spring 1999) did I learn of the connection between Helena and Ambrose (i.e., Ambrose's late reporting of Helena's finding of the Holy Cross). I began to wonder who it was that actually picks the patronage/names of new parishes when they are instituted, because I am curious if having St. Ambrose next to St. Helena is just an accident. I have yet to pursue this research largely because I don't think I'd actually find an answer, at least not an answer that states specifically whether or not this particular coincidence was intentional. Later in 1999, I learned of Athanasius and his connection to Constantine, and then I learned of Athanasius' influential theological text on the Incarnation.
I'm relating all this because I very unexpectedly found myself living in a otherwise undistinguished place, yet full of huge, and quite specific, late antiquity references. References, moreover, that no doubt no one else around here has any idea of, nor, probably, would care about even if they were informed. I guess what I'm trying to say is that as remote as late antiquity is, it's still very much there, and sometimes right in front of your face and you still may not recognize it.
ps
You may remember that I wrote about a nun that was recently attacked while going to Mass at St. Helena's. Well, that same week there was another nun attack news story that came out of Olney. A nun from Incarnation parish was attacked by a pit-bull dog. Not that these examples are exactly 'persecution', but they do give one a real sense of the kinds of stuff that went on almost exactly 1700 years ago.
pss (2010.08.03)
In late October 2007 I became aware of the fact that the parish west of St. Helena's (in a neighborhood of northern Philadelphia that I was never familiar with) is named for St. Athanasius.


2001.09.11


2001.09.12 12:10
war souvenirs
Late last night I saw Diane Sawyer of ABC news holding up a handful of the office papers that were shot out of the World Trade Towers as the planes hit. She picked them up off the ground and showed them to the viewing audience. I immediately thought, "she now has her souvenirs." Later that night I wondered how soon it would be for other such "souvenirs" to show up at eBay. The following is a message issued by eBay late yesterday:
***World Trade Center and Pentagon Items***
Many eBay community members have been directly affected by the tragic events that took place earlier today along the East Coast of the United States. We understand the strain that the sale of items relating to those events and the locations where they took place may place on those affected.
eBay does not allow trading of items directly related to a crime of this nature (crime scene material, propaganda, etc.). For more information, please see our Offensive Items policy.
In addition, out of respect for the victims, their family members and the survivors, eBay is temporarily suspending trading of all items directly related to the World Trade Center and the Pentagon, regardless of whether the events of September 11th are mentioned on the item or in the listing. This temporary suspension will be in place until October 1st.
This is an extraordinary measure that we feel is appropriate considering the extraordinary nature of today's events and its direct affect on so many members of our community. Many of our users have asked that we take this step, and we believe that the eBay community will understand and support this decision.
Everyone at eBay is deeply concerned for the families and loved ones of those involved in this tragedy. Our thoughts remain with the victims and their families during this terrible time.
Regards,
eBay