2009.01.30 11:05
Venturi's Lieb House (No. 9) House to be moved (or demolished)
Is it true they're making a sequel to Mad Men called Loveladies? I hear it's gonna be like Desperate Housewives meets the Jersey Devil washed in the aura of '68 and '69.


2009.01.30 16:29
Venturi's Lieb House (No. 9) House to be moved (or demolished)
No, it's not a done deal (or at least it wan't on Wednesday), but the article makes it pretty clear that the process is starting, and the house is probably right now moved off the property.
My thoughts on Mrs. Lieb are in response to Somol's conjuring conjecture of the female figure replacing the automobile in the canonical depiction of modern architecture. (See what I mean by funny?) Granted, Mrs. Lieb may not have been bored in Loveladies, but, as Liberty Bell concurs, it's not an unlikely circumstance. And, if the bordom actually was there, the context was more than a bit bleek, and I wonder if the architecture helped or hurt.
If nothing else, the Lieb House has a whole lot of story to tell, and it looks like more story still to come. I think that's pretty neat for a little box house.


2009.01.30 17:01
Venturi's Lieb House (No. 9) House to be moved (or demolished)
...it get's even better. Apparently, Vanna Venturi sitting in front of her house is an updated Annunciation painting, and the "Immaculate Conception" [sic] is happening.
I call Somol's criticism superficial because all he really talks about is pictures and not the architecture itself.


2009.01.31 12:49
Venturi's Lieb House (No. 9) House to be moved (or demolished)
from Skyline Online:
For the record, the buyer was hoping to avoid having to tear down this architectural landmark. In fact, relocating the home to a vacant lot on West 27th Street in Barnegat Light was discussed. As the broker involved with the sale, I too looked into relocating the home to one of the properties I own in Barnegat Light. I proposed the idea to my architect and friend Robert Musgnug who was kind enough to do some research and get some numbers together for me. Unfortunatley the time, money, and permitting fiasco typically necessary to accomplish such an objective made it impossible for me at this juncture. Kudos to Jimmy Venturi and the couple from Glen Cove. Kudos to Sheila Ellman for all of her hard work in getting the word out, and helping save this modern architectural landmark! It was truly fascinating watching the workers from the fleets of Atlantic Electric, Verizon, and our local police departments come together with Wolfe Movers to help wheel this boxy structure from 30th street in Barnegat Light, up to the 16th street dock where the home now sits--awaiting the mothership. Amazing.
The most ironic part of the move was watching a man climb down the inside stairwell--as it crossed 20th street and Bayview Avenue in front of my office. Wow. Moving the home itself is a modern marvel!
2009.02.01 07:54
Venturi's Lieb House (No. 9) House to be moved (or demolished)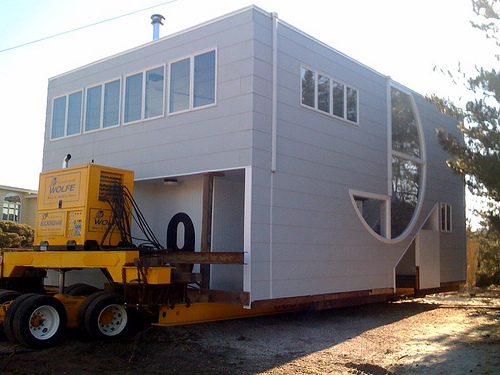 2009.01.29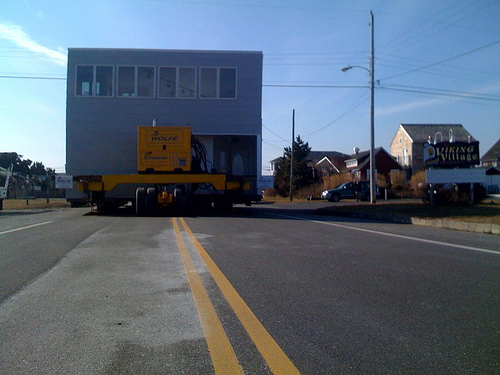 2009.01.30