2002.11.21 14:04
what a difference 250 years make
Well, I did make a pilgrimage this morning down to Ridge Avenue and Buttonwood Street, Philadelphia, where "legend" has it that Benjamin Franklin flew a kite with key and discovered that lightening and electricity are the same thing 250 years ago. Although in an area still full of a lot of old warehouses, many now facilitating Chinese/Oriental businesses relative to Chinatown several blocks south, the "historic site" is an otherwise somewhat decrepit part of the city. There actually is an empty lot just east of Ridge Avenue on Buttonwood Street, and that's what I took pictures of. Otherwise, there is nothing at all to suggest that something of quite modern significance ever happen at this place, except perhaps the rather large outdoor electrical power station enclosed within a high chain-link fence a half block south on the other side of Ridge Avenue.
I had somewhat heightened expectations of my visitation since deciding to go yesterday morning. Last night I was watching a movie over a friends place, and I asked, "Do you know where Buttonwood Street is. I think it's right around Ridge and Spring Garden." My friend didn't have any idea, but offered me a SEPTA (Southeastern Pennsylvania Transportation Authority) map. I found Buttonwood Street a block south of Spring Garden Street, and I thought I actually knew the site because I thought it was where a building I finally photographed this past February was. This building/warehouse is one I've known since my college days, and I always admired it because of its facade's striking similarity with the facade of Venturi and Rauch's D'Agostino House (1968, unbuilt). I then found myself even wondering whether Venturi actually knew this warehouse because, just maybe, Venturi had once gone to make his own pilgrimage to Ridge and Buttonwood. Alas, the warehouse I know is not at Ridge and Buttonwood, rather at a similar intersection with Ridge Avenue a block north of Spring Garden Street. It should be noted that Ridge Avenue is one of Philadelphia's old zig-zagging diagonal streets in contrast to the otherwise planned grid of streets, off the grid because it follows an old "Indian" trail, and in Franklin's time was the main route out of town to the north-western countryside.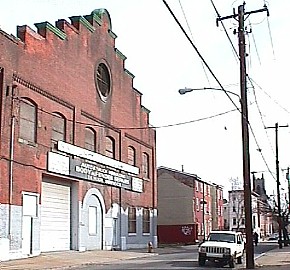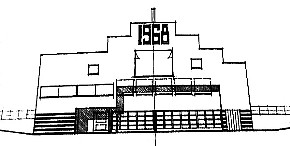 I now find myself wondering what all this "says" about us in the beginning of the 21st century, a people so reliant on electricity, yet otherwise largely oblivious to how we got that way. There is a tiny triangular block just south of the empty lot on Buttonwood Street with a small used-car business on it. I knocked on the office door, and a tall black Muslim (I assume by his garb) man in his thirties answered. I asked him if heard of the story of Benjamin Franklin flying a kite and "discovering" electricity. He said, "I don't think I ever heard dat." I told him Franklin did it here over 200 years ago. He said, "What? In dis building?" I said, "No. Like over there." Then he asked in a kind of mean voice, "Why you sayin' all dis?" I then smiled, but I didn't say much more.
As I drove home up Broad Street I thought to myself in irony, "Well that was a swell way to celebrate Quondam's 6th anniversary." And then I thought, if that's what Franklin's kite flying site is like after 250 years, God only knows what Quondam will be 244 years from now.