1996.06.07
combined building documentation
...always wanted to compare the Maison l'Homme with Plecnik's Houses under a Common Roof. ...could easily combine Maison l'Homme with Villa Savoye or Wall House 2 or even Hurva Synagogue.


1997.01.20
Exhibit Graphics: Inspiration IX
Dominican Motherhouse axonometric and plan of the design in context. ...the buildings in a row as if they were on individual display. Or replace the Kahn buildings with other buildings from Quondam's collection, i.e., keep same motherhouse footprint but use buildings of a similar size and program, e.g., St. Pierre for the church/chapel, Houses under a Common Roof for the dormitories; Museum of Knowledge or Museum for Nordrhein Westfalen pavilion for the administration tower. Also check out scale comparison of Hurva Synagogue, Villa Savoye>, Altes Museum, Gooding House.


2002.05.26 15:27
Re: Virtual Architecture and Art?
3. computers seem to have a lot to do with virtual architecture, most likely because of the new drawing dexterity that computers provide architects. Beyond that, however, computers/CAD enable whole new visualizations of architecture. I am not so much interested in creating virtual environments, as much as environments parallel to real-time/place reality. For example, designing and (virtually) building an addition to Le Corbusier's Villa Savoye, or imagining oneself as an architect as squatter within Louis Kahn's Hurva Synagogue. In the sense of creating a whole other history of architecture parallel to the real present.


2002.08.09 15:20
Re: Congregation or Synagogue ?
I/Quondam already have a cad model of Hurva Synagogue, and indeed there is reason to believe that Kent Larson got the idea to construct computer models from me--I had submitted a grant proposal to the Graham Foundation in 1991 involving the building of computer models of unbuilt designs. I did not receive the grant, but Kent Larson did receive a grant from the Graham foundation the following year for the same type of proposal. Beyond that, also in 1991, I published slides and drawings of Le Corbusier's Palais des Congres (unbuilt 1964) and offered them for sale to academic architecture libraries. Harvard, U of Oregon, Berkeley and Miami U, Ohio bought the slides, and Harvard also bought the drawings. Is it just coincidence that www.greatbuildings.com began out of U. of Oregon?
I revisited Ahavath Israel today, and sadly the facade has been changed, I was told circa 2000. The whole portion of the facade above the recessed entry is no longer brick, but now a salmon colored, textured CMU. This is yet another building to have changed since I last took pictures of it. The curse of Quondam I guess.
It dawned on me last night that both Wright's Beth Sholom and Kahn's Adath Jeshurun are hugely triangular in plan. Wright mailed the preliminary drawings to Rabbi Mortimer Cohen on 15 March 1954. Kahn's design is dated 1954-55. Since Beth Sholom and Adath Jeshurun are (next-door) neighboring congregations, it wouldn't surprise me at all if architectural rivalry between the congregations was going on, and that Kahn even saw the Wright plans before he came up with his design. Has anyone heard of this possible connection before?
ps
I've been doing a lot of Kahn building photographing this week. I've never seen that Trenton Bath House before, and it was just wonderful to see it. Today I was at Bryn Mawn College to photograph the Kahn dormitory exterior. The building is in the final stages of a full overhaul/restoration. The place was/is crawling with workmen, so I went in and found my way up to the roof. and what a great Kahnscape that is. Mill Creek Housing Project, Philadelphia is now completely abandoned and boarded up. Richards Medical Buildings, U of P, still looks good, but is hard to photograph because of tight quarters and lots of surrounding vegetation.


2002.09.01 11:48
finding the NT buried in snow
Finding the New Testament Buried in Snow
a new work by Stephen Lauf


2005.03.22 10:26
church and synagogue
Since learning that Le Corbusier's St. Pierre at Firminy-Vert is again under construction and slated for completion 2006 I had been thinking about the 3D CAD model of this building design in Quondam's collection. I was reminded of (a set of 1998 Quondam web pages that exhibited) how the plan of St. Pierre fit very nicely into the sanctuary of Louis Kahn's Hurva Synagogue.
Yesterday, I placed the model of St. Pierre inside the model of Hurva Synagogue, and started rendering images of the results. I thought I was really just playing until I thought about the architectural implications of designing a Roman Catholic Church within a Jewish Synagogue. Would such an architecture speak to how Christianity is more or less wrapped in Judaism? And, given the nature of the Hurva design, there is every evocation of St. Pierre being "wrapped with ruins."


2007.01.19 15:31
here's another Mies-runs-through-it design by OMA
Mies wrapped around a factory
What's next? Kahn wrapped around Le Corbusier?


2007.04.23 17:08
Featured Discussion: Volume
Firminy church by Le Corbusier
Hurva synagogue by Kahn
composition 1a : the act or action of composing : the formation of a whole especially by different things being put together
To confuse or not to confuse, that is deterritorialization?
The church/synagogue composition came as a result of seeing how the plan of the church fit almost perfectly within the sanctuary(?) of the synagogue. And, since I had a model of both buildings, I just wanted to see the superimosition in 3D. And upon seeing that I thought, "Gosh, that kind of looks like a mosque." Trust me, deterritorialized thinking isn't necessarily brilliant, although for the most part uninhibited.



2012.03.25 10:23
Re: Traditional Architecture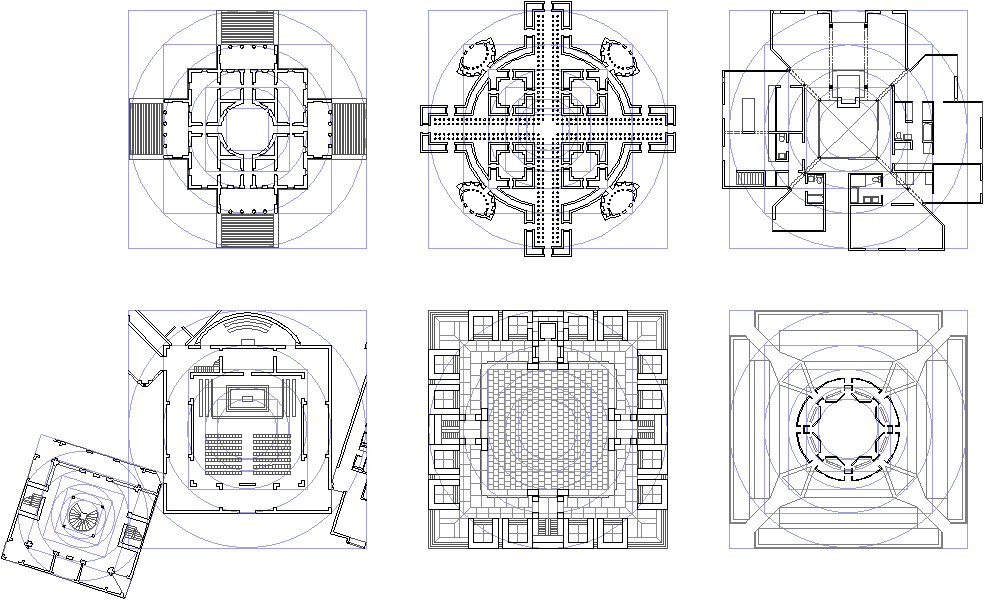 Palladio, Piranesi, Kahn, Kahn, Kahn, Kahn