1968.08.05


CAD collection


1997.01.20
Exhibit Graphics: Inspiration IX
Dominican Motherhouse axonometric and plan of the design in context. ...the buildings in a row as if they were on individual display. Or replace the Kahn buildings with other buildings from Quondam's collection, i.e., keep same motherhouse footprint but use buildings of a similar size and program, e.g., St. Pierre for the church/chapel, Houses under a Common Roof for the dormitories; Museum of Knowledge or Museum for Nordrhein Westfalen pavilion for the administration tower. Also check out scale comparison of Hurva Synagogue, Villa Savoye>, Altes Museum, Gooding House.


2001.01.26
the couch is on ebay again
...as to Larson's book. he's been around since 1994(?) when Progressive Architecture published the Hurva Synagogue images. I was always suspicious of him, however, because he received a grant from the Graham Foundation (I don't know what year) to do the Hurva computer model. In 1991, I applied to the Graham for a grant to do the same thing, along with many other buildings. Of course, I never received the grant, and I wonder whether Larson or someone else read my grant proposal, and since Larson was/is associated with MIT, he got the grant. If Julia Converse, curator of the Kahn archives, ever admitted it, she'd have to say that in 1985 I requested to see all the drawings of Kahn's (unbuilt) Dominican convent, and I then started to build a computer model in my spare time on Penn's GSFA Intergraph system. The GSFA sold their cad system in early 1987, and since at that time there was no way to translate the data, the model I worked on was lost. I still have photocopies of the Kahn office drawings I used to build the model.


2002.02.20 17:10
Re: paper architectures
This leads me to seriously question the validity of Young's other, earlier remark (16 Feb. 2002): "What has not been written, as far as I know, is how much Venturi stole from Viollet" First off, the term "stole" is inappropriate and foolish as far as good design history is concerned. Second, the influence of Frank Furness (American's VLD contemporary) on Venturi supercedes any VLD influence. Third, the 1980s redo of the Venturi and Scott Brown home (and later the VSBA renovation of UofP's Irvine Auditorium) clearly demonstrates a manifest Viollet-le-Duc 'reenactment' in terms of interior wall architectural decoration, but each room of the VSB home also clearly demonstrates Venturi el al's broader understanding and modern execution of historical architectural ornamentation.
In Quondam's inaugural exhibit "seeking precedents... ...finding inspiration" (20 March 1997 to 21 September 1997) there was one "page" that compared some plans from VLD's Dictionary with the plan of Louis Kahn's Convent for Dominican Sisters project.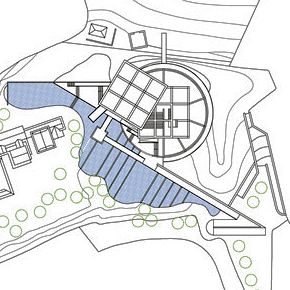 2002.12.17 17:25
Re: a Bemused Tadao Ando observation
I have studied the evolution of Kahn's architecture beyond Kahn since my own architecture thesis 1981, and Ando's Museum of Literature design appears to be a late descendant of Kahn via late 1970s Stirling and early 1980s Isozaki.
Kahn's Levy Memorial Playground designs with Isamu Noguchi (1961-66, unbuilt), and his Dominican Motherhouse of Saint Catherine de Ricci (1965-69, unbuilt) engendered much formal architectural play, a genealogy that goes mostly unnoticed by architectural historians. Much of Predock's, work, for example, especially "reenacts" the Levy Memorial Playground designs.
Interesting how you relate the Museum of Literature to a kind of themepark. It could easily be said that Kahn's formal playfulness was inspired by Piranesi's Ichnographia Campus Martius, an ultimate plan of an ancient Roman themepark if there ever was one.
2002.12.18 17:02
Re: Bemused Tadao Ando observation
What is Hadrian's Villa (circa 100 AD) if not an architectural theme park?
This issue, as well as precedents for Kahn's Motherhouse of St. Catherine de Ricci, where integral to Quondam's inaugural exhibition seeking precedents... ...finding inspiration, online 20 March 1997 to 21 September 1997. There may be a re-publication of this exhibit on compact disk sometime in the future.


2003.02.12 12:33
Re: plagiarism
Simply put, if sources are acknowledged, then plagiarism does not exist. Furthermore, reenactment exists whether a source is acknowledged or not.
Tomorrow, 13 February, is the feast of St. Catherine de Ricci, whose name some may recognize from the Dominican Motherhouse of the Sisters of St. Catherine de Ricci, an unexecuted design by Louis I. Kahn. St. Catherine was indeed a 'reenactor' in that she for twelve years reenacted the events leading up the Crucifixion, beginning Holy Thursday and ending Good Friday afternoon, even including the appearance of stigmata.
I have to wonder whether Kahn ever took the time to research St. Catherine de Ricci while designing the Motherhouse dedicated to the Saint. Are there perhaps clues within the convent design that may suggest Kahn was aware of the Saint? Honestly, who knows. All the same, Kahn for sure did some reenacting himself with the design.


2004.01.24 09:47
Re: Fw: The New ICA. ICA Unveils Diller + Scofidio's Dramatic Museum Design
My thesis project (Temple University Architecture Program 1981) was a new building for the Philadelphia Institute of Contemporary Art. It took up most of the block on the south side of Rittenhouse Square (Street) between 17th and 18th Streets, just behind the Philadelphia Art Alliance (where Anne Tyng once lectured to an audience of five people (including me) circa 1980). The ICA building's design comprised a collage of various building types, inspired by Kahn's Convent for the Dominican Sisters and Stirling's Science Center in Berlin, in the flavor of a virtual museum of architecture you could say.


2004.01.25 15:24
...in yesterday's dusk
...both St. Catherine de Ricci and Louis I. Kahn will attend the Horace Trumbauer Architecture Fan Club Convention to deliver their jointly-authored paper.


2004.02.13 12:44
Re: of castles, fortifications, etc.
The administration building of the Academy of the New Church is a very early Mitchell/Giurgola building, whose design somewhat reenacts the design of Kahn's unexecuted Goldenberg House, which was to be build on a site just couple miles down from Bryn Athyn.
Louis Kahn's unexecuted Dominican Motherhouse of the Sisters of St. Catherine de Ricci is chock full of symbolism--today, 13 February, is the feast of St. Catherine de Ricci.


2004.02.16 11:02
Re: of castles, fortifications, etc.
My Architect was not discussed, so I don't know if Sister Caroline saw the movie. What she did was explain why the Motherhouse was commissioned, and how, after repeated redesigns to fit the budget, the project was ultimately abandoned. Sister Caroline was actually more curious about "the paper" Saint Catherine de Ricci and Louis Kahn are to present in "the novel I'm working on."
I told her I constructed a computer model of the project on the site, and I asked about the big hillside behind where the Motherhouse was to be. She said that was "daffodil hill" because it was covered entirely with daffodils. The Dominican Sisters sold the site (at Media, southwest of Philadelphia, just north of Delaware) in 1990; it is now developed with suburban housing.


2004.04.25
papers of the HTAFCC
1. Catherine de Ricci and Louis I. Kahn--this paper is about the Motherhouse design (a la "seeking precedents...") and somehow shifts into "finding the New Testament buried in snow" which introduces 'chronosomatic man'. Catherine's contribution centers on reenactment.


2004.05.14 13:31
Papers of the HTAFCC
Reenactionary Bilocating Architecturism
Saint Catherine de Ricci and Louis I. Kahn




pregnant wholeness
2005.03.15
notes
1. ...an exhibit of Giurgola free standing facades--Columbia HS, PennMutual, Tredeffrin Library, Columbia Univ., Princeton (replaced by VSBA), Australia, and the United Way--as "proto" (except for Kahn "wrapping ruins around buildings @ Exeter).
3. do a full reenactment trail before and after Kahn's Media convent. Luckily, my thesis comes before Gehry's Winton Guest House. ...including the precedents I presented at thesis.


2006.01.22 14:31
Thesis Semester [blog] 25 years ago
So what do I do now? I begin a thesis project where I want to reenact Stirling's reenactionary Wissenschaftszentrum, which is itself a reenactment of Kahn's Convent for the Dominican Sisters.
Looks like I already wrote about some of this 12 July 1998.


2006.01.25 12:58
Thesis Semester [blog] 25 years ago
Ever since I saw Guida's design of the Kasperson Residence (Mitchell/Giurgola Architects, 1979), I knew he had an affinity for Kahn's Fisher House--there's no denying a good reenactment when you see one--so I felt sure he would be favorably responsive when I told him I would like to emulate Kahn's Motherhouse of the Dominican Sisters paradigm. That's the "that" when he said, "...and do that with the rest of the program on top."


2006.02.02 12:46
Thesis Semester [blog] 25 years ago
Today, 2 February is the (new) feast of St. Catherine de Ricci. Catherine died 2 February 1590. My thesis project is seminally a reenactment of Louis Kahn's design of the Motherhouse of the Dominican Sisters of St. Catherine de Ricci. I knew nothing of St. Catherine de Ricci in 1981, but I know much more now...
My virtual thesis project for 2006 is entitled "Reenacting Roma Interrotta Sector VI". The design team of RI Sector VI was Romaldo Giurgola, Harold Guida, Sigrid Miller and Giancarlo Alhdeff. This project has everything to do with blending an 18th century sector of Rome with a 20th century sector of North Philadelphia.


2007.11.03 10:25
Collage Architecture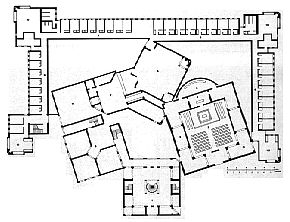 Kahn, Motherhouse of the Dominican Sisters, 1965-68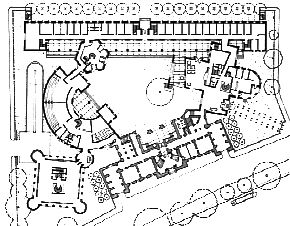 Stirling/Wilford, Science Center, 1979-87


2008.05.29 09:27
Can you say canonical?
"...you might like to know that Ten Canonical Buildings: 1950-2000 will be released on June 24, 2008.
Peter Eisenman, renowned for his own controversial and influential body of work, looks at ten leading architects of the twentieth century and their theoretical positions, technological innovations, and design contributions. Eisenman identifies a project within the oeuvre of each of these architects—Luigi Moretti, Ludwig Mies van der Rohe, Le Corbusier, Louis Kahn, Robert Venturi, James Stirling, Aldo Rossi, Rem Koolhaas, Daniel Libeskind, and Frank Gehry—that has profoundly affected architectural discourse and practice. With drawings, diagrams, and always-incisive text, he presents each architect's theoretical position, and then offers detailed critical analysis of the project."
Any guess what the 10 buildings might be? Your own picks?
Moretti: Casa del Girasole (Eisenman)
Mies: Seagrams Building (Eisenman)
Le Corbusier: Palais des Congrès (me)
Le Corbusier: Olivetti Center Milan (me)
Kahn: Dominican Sisters Convent (me)
Venturi & Rauch: Franklin Court (me)
Stirling: Leicester Engineering (Eisenman, "Real and English")
Stirling: Nordrhein/Westfalen Museum (me)
Stirling: Wallraf-Richartz Museum (me)
Rossi: Modena Cemetery (Eisenman)
Koolhaas: Patent Office (me)
Libeskind: who cares (me)
Gehry: Wagner Residence and other residences of that era (me, just to be a bit obscure)


2009.02.25 10:52
Bilocation Syndrome
Did Kahn 'research' St. Catherine de Ricci while designing the Dominican Motherhouse of the Sisters of St. Catherine de Ricci? Who knows? There is a sense of bilocation in the design of the Fisher House, and even earlier in the Fruchter House and the executed Jewish Community Center Day Camp. It's probably just a strange twist of fate that these senses of bilocation came to a maturity within the design of the Dominican Motherhouse of St. Catherine de Ricci.
2015.03.22 20:44
Pondering the cultural value of Frank Gehry's Winton Guest House
Not just in plan. Kahn's, Stirling/Wilford's and Venturi and Rauch's designs are also studied volumes. The verticality of Kahn's design in particular precurses Gehry's. And I certainly don't buy that Gehry was somehow uninterested in or unaware of what other architecture was being designed and built at the time or just prior--let's just be realistic about that.


2015.03.22 21:43
Pondering the cultural value of Frank Gehry's Winton Guest House
And here's something interesting regarding the massing of Kahn's Motherhouse design.