2009.01.29 10:21
Venturi's Lieb House (No. 9) House to be moved (or demolished)
It was a windy day in May, 1977, just after the end of 2nd year. The five of us, Ellen, Sue, Ron, Tony and myself, drove down in Tony's Fiat--like college kids packed in a phonebooth. We reenacted the classic shot of sitting on the steps even, and then went on to look the Murphy Levy Wurman houses also on the island. Scully's "historian's revenge" you know.
Gordon would love to now cut up one of his inspirations, and Kahn's thinking "the further wayward adventures of the Fisher House hippie child".
Otherwise:
Acknowledgements
Foreward
Introduction
Preface
1. Nonstraightforward Architecture: A Gentle Manifesto
2. Complexity and Contradiction vs. Simplification or Picturesqueness
3. Ambiguity
4. Contradictory Levels: The Phenomenon of "Both-And" in Architecture
5. Contradictory Levels Continued: The Double-Functioning Element
6. Accommodation and the Limitations of Order: The Conventional Element
7. Contradiction Adapted
8. Contradiction Juxtaposed
9. The Inside and the Outside
10. The Obligation Toward the Difficult Whole
11. Works
Notes
Photograph Credits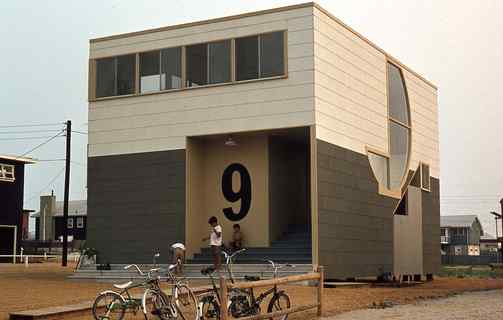 2009.01.29 14:37
Venturi's Lieb House (No. 9) House to be moved (or demolished)
For clarity's sake, the Lieb House is not among the works published within Complexity and Contradiction; the Lieb House is among the works published within Learning from Las Vegas, 1st edition:
The Lieb House
Loveladies, New Jersey, 1967
(with the assistance of Gerod Clark [who may be the first architect to collage magazine people within architectural renderings])
It is easy to explain what the Lieb House is not: It is not a tasteful natural-wood-shingled configuration of complex and contradictory wings and roofs. It is an ordinary shed with conventional elements. It uses asbestos shingles with imitation wood-grain relief, once the indigenous building material on Long Beach Island. And it uses big elements, such as the stair that starts out the width of the house and gradually decreases to three feet on the second floor. Its unconventional elements are explicitly extraordinary when they do occur, as in the big round window that looks like a 1930s radio loud-speaker. It is a little house with big scale, different from the houses around it but also like them. It tries not to make the plaster madonna in the birdbath next door look silly, and it stands up to, rather than ignores, the environment of utility poles.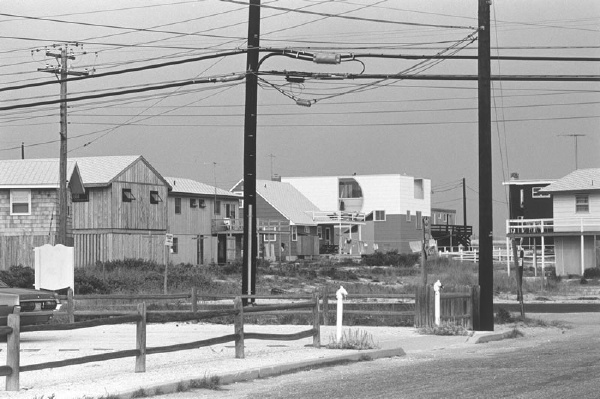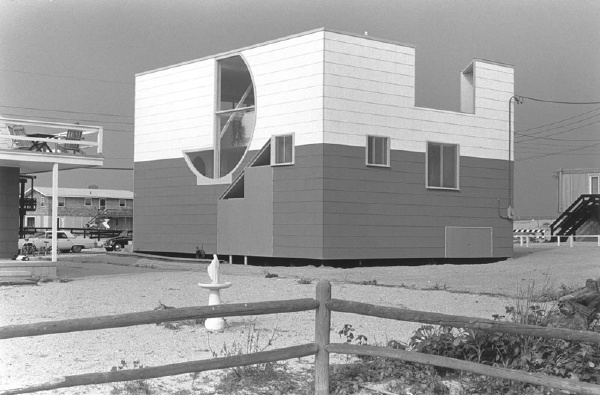 2009.01.29 15:26
Venturi's Lieb House (No. 9) House to be moved (or demolished)
The first time I read Complexity and Contradiction in Architecture was in 1973, while a junior in high school. I didn't understand a whole bunch of it then, but by 1975, in first year of architecture school, I found I had no problem explaining (and defending) my designs virtually from day one. Whenever I read passages from the book now, I'm actually surprised by the straightforwardness, conciseness and ease with which Venturi delivers his insights.


2009.01.29 16:05
Venturi's Lieb House (No. 9) House to be moved (or demolished)
plaster madonna wo bist du?!?!
and you can dance like a prayer, isla bonita
Which reminds me, Somol's take on the Lieb House is a funny read. So where is that photocopy. Ah, "My Mother the House" I think from Fetish.


2009.01.29 16:57
Venturi's Lieb House (No. 9) House to be moved (or demolished)
In all honesty, how this story plays out doesn't really matter to me at all, but it does interest me. The house being moved and sailing on a barge will make great documentary film footage, and when you think of the price of entertainment film footage production, the moving of the Lieb House is probably relatively cheap. And there is the notion of someone actually "collecting" a building. This is not exactly something unprecedented, rather not so much a modern activity. Whether the house is moved or demolished, either case will be a historic architectural event. And, of course, a triumphal event will be more uplifting than a destructive one.
Coincidently, the utility wires are still an issue (if the house is moved).


2009.01.30 10:42
Venturi's Lieb House (No. 9) House to be moved (or demolished)
The article linked at the opening of this thread does not say that the Lieb House is in danger of being wrecked if it is not off the property by Monday, rather:
The company will begin today [Wednesday] to jack up the house and slip steel rollers under the foundation, said Kendal Siegrist, a manager. By Friday, it should reach the parking lot in Barnegat's marina.
How long it will sit there is anyone's guess. "Maybe several days," Siegrist suggested.
So, it seems while all of the above was being written, the Lieb House was actually being moved down a Loveladies street and into Barnaget Light.
I'm guessing the paperwork for the receiving end will indeed eventually materialize, and the house will sail on--Teatro del Mondo take 2.
Somol's "My Mother the House" really is a funny piece of architecture criticism. Funny in that it takes itself seriously as criticism while actually being very undercooked satire. Overall, what he accuses Scully's criticism of being, Somol then produces several times over--a magician who's tricks rely mainly on the likes of out-take editing. Very superficial and not surgical at all.
Two errors, one typical and sad, and the other just strange. Again the Immaculate Conception was confused for the Incarnation and Venturi did not "substitute the functionless TV antenna for the Madonna that he originally planned to place atop the Guild House." The Guild House was designed for a Quaker Institution.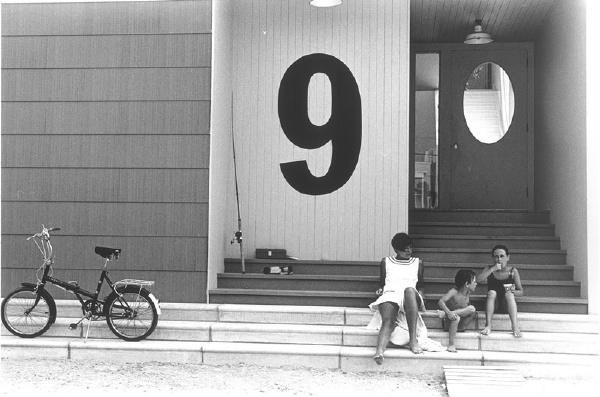 What I see in the picture of the young Judy Lieb sitting on the steps with her kids is a bored housewife down the shore for the summer while Mr. Leib remains at work in the city and only comes down for the weekends.