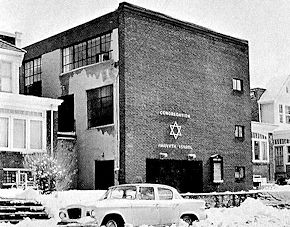 Synagogue Ahavath Israel, North Philadelphia, 1935-37.
In 1937 Kahn was able to complete a commission on his own, the Ahavath Israel Synagogue, in Philadelphia. This building was nothing to be ashamed of. A shell of brick wrapped around two sides, that where the adjacent buildings were contiguous and that, elegantly perforated (the notice board is not Kahn's), behind the decisive terrace on the street. On the other side, where an areaway provided some space, Kahn stopped the brick and set large simple windows in a stuccoed wall with its own separate flat cornice. The intersection could hardly be more awkward or, prefiguring Kahn's later work, more correct in terms of the function each wall is serving.

The brute courage necessary to keep one's self-respect alive during much of that decade can hardly be imagined now, but through its trials Kahn was forced into a consideration of the role of architecture in modern life as he could never have been by the Beaux-Arts. Significantly, T-Square Club Journal became Shelter and was dominated by Buckminster Fuller. The group housing projects with which Kahn was associated made him wrestle with the hard demands of purely functional planning. Characteristically, he was later to perceive the special beauty implicit in such demands. These supplied the element of life as lived which had been lacking in his academic training, and they required Kahn to think, as he was thenceforward always to do, of architecture as the construction of the human environment entire, of the city as a whole. Philadelphia was clearly a major center of such conceptions in the thirties, and Catherine Bauer, who wrote her classic study of housing in 1934, knew Stonorov, Alfred Kastner, and Kahn well. Indeed, the first federally sponsored housing project, Juniata Park, was built in Philadelphia in 1934, designed by Alfred Kastner in association with W. Pope Barney. In such projects economy permitted only modern architecture, in the narrowest sense of that term, to be built. And it was in these years, Kahn has said, that he came to revere Walter Gropius the man and the apostle of sociological responsibility, though not especially his buildings. One was alone with the problem, the cinder block, and the two-by-four at that period, and one's noble friends across time, once so childishly intimate, were now remote; they would have to be faced again, if ever, as man to man. To that end Kahn read, as he had not done before. Le Corbusier's books were especially important to him, and later he was to recall that experience. "I came to live in a beautiful city called Le Corbusier," he said.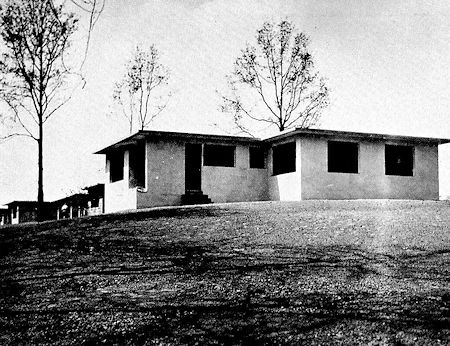 Slum Block Rebuilding Project, 1933. Alfred Kastner, principal architect; Louis I. Kahn, assistant architect and co-designer, Jersey Homesteads Cooperative Development, Hightstown, New Jersay, 1935-37. Unit under construction.





Slum Block Rebuilding Project. Model.