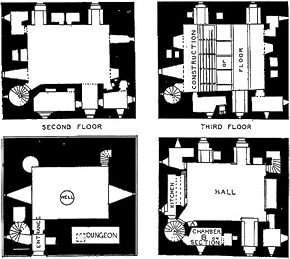 Comlongan Castle, Dumphriesshire. Plan.
Again a parallel with Wright comes to mind, in which Kahn has compressed two or three decades of Wright's career into a few years. That is, Wright's work from 1902 to 1906, despite the formative influences upon it from the Shingle Style, Japan, and so on, was almost pure invention in terms of reintegration, thus a true beginning. So also Kahn's from 1955 to 1959. From 1914 onward, Wright seems to have welcomed memory more and more and to have incorporated its shapes more obviously in his work: Mayan in the teens and twenties, finally, by the late thirties, Rome and its antecedents. So now Kahn in 1962. It is probably no accident that both turned to Hadrian, since that haunted Emperor was perhaps one of the first, certainly one of the most conspicuous, men in Western history for whom--all ways having opened, which more true than another?--conscious, selective memory was a major determinant of life.

Is this a pervasive problem of the modern world--all possible, nothing wholly serving, no way the only Way, memory all too free to choose? If so, does such inevitably prevent a direct view of present problems and so limit creative capacity or divert it toward easy eclecticism? It cannot be said to have done so for Hadrian himself, or for either Wright or Kahn. It is true that it eventually tended to direct Wright away from his earliest integration of structure and space toward configurations more purely space-dominated, often constructed as might be, but it also liberated and enriched his overweening desire for continuous spaces more and more. So too Kahn has gained in spatial command, where he has most needed to gain, but his structural concern has not faltered. If he can advance along that line, toward integration, not away from it--keeping, can one say, the "dream" and the "reality" in balance, the present and the past in his hands--he may yet endow his age with an image of wholeness matched only by Wright's and Le Corbusier's and so most rare in it up to now. Such rarity should not be considered surprising, insofar as it is linked to that rarest of human gifts, the instinct for how and what to remember.

Kahn would thus seem to have found a way to accomplish what neither the architects of the Beaux-Arts nor the more impatient formalists of this decade had been able to do: to make the past and the present--the continuum of life--one, in terms of reason no less than wonder. Past and present do now play as one in his art. To watch him struggle with a problem is to see this. The dormitories for Bryn Mawr, now under study, show it. At present they are close to pure Form: three cubes touching at the corners, advanced and recessed walls creating side lights, a general rigid symmetry. He has only begun. Now he wants to know how the use of each space can show him how to Design it; he harasses his assistants to study each functional requirement to that end. Unlike most architects, he will henceforward hang breathless upon specific client demands, the more specific the better. Any one of them may cause him to redesign the building as a whole, which he will do if, in his phrase, "the Form does not hold." To help him he also has by his desk an unlikely 19th-century history of Scottish castles, in which a thick wall honeycombed with spaces of every conceivable shape caught his eye. Circles and triangles, evidences of specific use, fragments of Form.


Dormitory, Bryn Mawr College, Bryn Marw, Pennsylvania, 1960-. Second-floor plan.