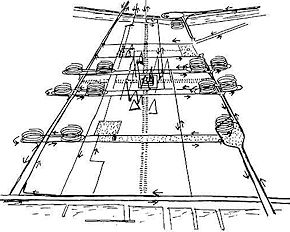 Philadelphia City Plan, project, 1952-53.

City Hall, Philadelphia, project, 1952-53. Model and perspective drawing.
One of the most important facts about Kahn is his pervasive concern for planning and civic design. Architecture does not stop or even begin for him with individual buildings but comprises the human environment as a whole. In this concern he is one with the great architects of all times and most specifically with those whose heritage was humanistic and who, like Le Corbusier but unlike Wright, held the city to be the ultimate work of human art. Kahn, with them, regards the city as a product of Form and Design, a complex of memory and action, with an Order of boundary and definition, not an animal sprawl. Philadelphia is Kahn's city, where as "a small boy walking through it" he found "what he wanted to do his whole life." The appended lists show his many associations over the decades with city and federal planning groups. He was Consultant Architect for the Philadelphia City Planning Commission from 1946 to 1954. Toward the end of that period he suffered a major defeat but produced a project which will probably not be forgotten in the future. His City Hall scheme of 1952-53 has already been discussed. How far it might have gone is hard to say, but it was beaten by finances from the beginning. "It was too large," be has since said, "it should have been two." Along with it went a new traffic scheme for the center of Philadelphia of a realism and beauty unmatched in contemporary planning. Penn's streets, as well as those added later to his plan, were choked with automobiles; but in Kahn's scheme the automobile was neither to be thrown out nor to dominate. Expressways were to receive parking towers where the cars, parked, were to be out of sight, as a look at any parking lot can show that they must be, and other streets were to be designed as "go," "staccato," and "dock"--for fast movement, slow movement, or as harbors. Shopping streets would have no "go" traffic. Most would retain their buses or trolleys; others were to become pedestrian ways. The whole was meticulously worked out in a pattern intricate and complete. It was not a vision but a reasonable actuality in terms of all the facts but those, apparently, of political possibilities, and it should be contrasted with Kahn's rather offhand Voisin plot of 1941 to demolish all of Philadelphia. An integral monumentality could have resulted from the parking towers and Penn Center if designed under Kahn's hand.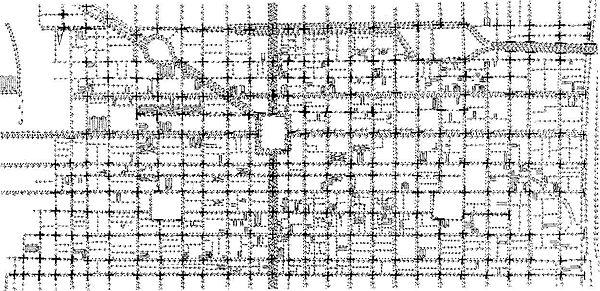 Philadelphia. Existing movement pattern.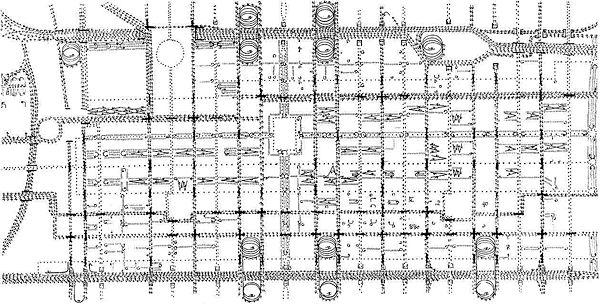 Philadelphia. Proposed movement pattern, 1952-53.