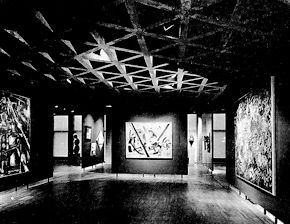 Yale University Art Gallery. Interior with pogo panels, looking east.
The columns were kept as few as possible, in line with the impossibly flexible program, and this Kahn was later bitterly to regret. Movable "pogo panels" were designed so that many works of art could be displayed, isolated or with others, while still allowing the main volume of space and structure to remain clear. The final effect of the interior as a whole, despite its vicissitudes, was of uncompromised integrity and force. All the old words out of Gothic Revival architectural criticism were recalled by it: honesty, reality, masculinity; and it was praised in this way by a host of admirers from contractors to deans. The concrete was left rough with the marks of its forms upon it, as Le Corbusier had already treated that material, but Kahn's shapes were crystalline, not muscular. The massive, repetitive, mathematically insistent canopy of the ceiling thus set off the specific works of art below it as, in my opinion, no white plane of plaster could have done. Their dense and luminous embodiments of human action were now tested by a forceful environment with its own physical order counter to theirs; and, as the Greeks well understood, their special qualities and meanings were enhanced thereby. The analogy is not strained, since we largely construct the settings for our actions and our works of art; the Greeks chose natural ones of special authority. In that sense Kahn, as in later buildings, was constructing a landscape, "ageless and unwearied," physically expressive of Law. But so well did he create the flexibility desired by his clients that a later gallery regime--impelled, ironically enough, by that preference of the thirties for weightless planes and pristine hermeticism (Museum of Modern Art) which Kahn had by now outgrown--was able to mutilate the interior considerably by throwing out the pogo panels and sheathing over most of the columns and concrete block walls. This event might be considered of small importance, since some day it will obviously be rectified (the building can carry its scars, a witness for it) except for the fact that it gave added impetus to Kahn's thinking about how the spaces should have been ordered and constructed so that what they "wanted to be" might have been made so clear that alterations would have been inconceivable. He recognized, for example, that the preconceived rectangular plan and column placement had never been brought into accord with the triangular order of the spanning tetrahedrons.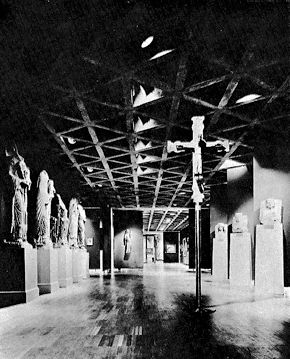 Yale University Art Gallery. Third floor, looking east.

Acropolis, Athens. Drawing, 1951.