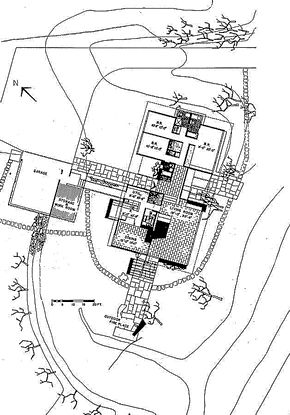 Weiss House, Norristown, Pennsylvania, 1948-49, Plan.
In 1947, with the departure of Richard Bennett from Yale, and upon the recommendation of that remarkable man, Kahn was hired as Visiting Critic and soon became Chief Critic of Design. Personal recollections are that he talked a good deal about structure (directing, in 1949, a collaborative project in which he required that the building form result from "unconcealed structure"), sketched quickly and expressively with that black pencil, but had as yet no consistent approach to design. The impression was of deep warmth and force, compact physical strength, a printless, cat-like walk, glistening Tartar's eyes--only bright blue--a disordered aureole of whitening hair, once red: black suit, loose tie, pencil-sized cigar. It was at this time that he began to unfold into the rather unearthly beauty and command of a Phoenix risen from the fire. Earlier he had looked as fey as Harpo Marx. Much later he gave up smoking and bought a gray suit.

The years 1947-50 were a period of transition for Yale and for many other architectural schools no less than for Kahn. There was unmitigated intellectual chaos and little post-war building to do. But the academic atmosphere was good for Kahn; he had after all been brought up in it. While he developed as a teacher, in which role he was much beloved, his design began to clarify itself and to become more fully his own. Such is apparent in his Weiss House of 1948-49. The plan seems to derive from the contemporary "Bi-nuclear" schemes of Marcel Breuer, but in Kahn's hands it takes on a new, square-cut decision. Utilities are grouped in the (then) Bauhaus-Harvard manner, and in this the functional though not yet the structural germ of Kahn's later "service spaces" may just possibly be sensed. The masonry and plank and beam structure is clearly articulated (a word often used at that period), and one feels Kahn's love for the character of every stone and board. In some details, and in feeling, the Weiss House resembles the ideal farm proposed by Paul and Percival Goodman in their agrarian-radical planning polemic, Communitas, of 1947. The plan of the Genel House of 1949 is of rather less interest, and too many elements may confuse the whole. But the walls and passages around the garden terrace are a sketch in miniature of the archaic world of Kahn's ultimate desire and of his drawings of long before.

In 1949 Kahn got a chance at a larger building on his own. He and Stonorov had made drawings earlier for an addition to the Philadelphia Psychiatric Hospital, but nothing had been built. In 1949-50 Kahn carried out the Bernard S. Pincus Therapeutic Building. Here he used the same movable plywood panels in double-height windows that he had employed in the Weiss House. The widespan structure, carried outside the walls on the tubular lally columns which were ubiquitous in those years, was of light steel open-work joists. This was the very last time that Kahn was to make use of metal construction in any form. Henceforth he was to design only in reinforced concrete and masonry, even when he thereby eventually lost commissions which by their very natures called for spanning with steel. He was soon, in other words, to understand and to have confidence once again in his own structural and formal predilections and his original training.

Weiss ouse. South side with double-hung window and panel wall.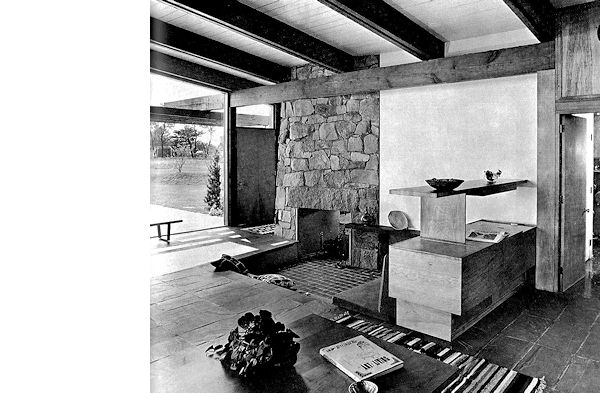 Weiss House. Fireplace.