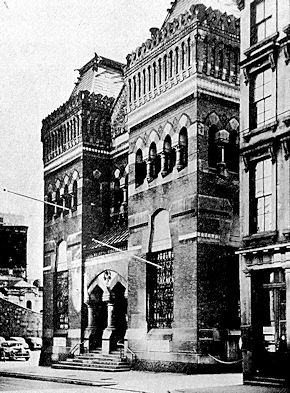 Frank Furness. Guarantee Safe Deposit and Trust Company (Tradesmen's National Bank and Trust Company), Philadelphia, 1875. Now demolished.
The building is entirely successful as seen on its site: a majestic spread from the present garden to the south; an urbane sequence of towers from the footpath on the north ( plate 2 ); a mighty assertion from the north-south walkway that approaches it through the dormitory court on that side. This last characteristic is in accord with some of Philadelphia's most typical earlier forms. One thinks especially of Furness, although Kahn has said, I believe correctly, that he was never personally drawn to that architect's buildings. Yet a common rude strength is surely theirs. Neither Furness nor Kahn employs Wright's engulfing and soothing continuities of space, and this is the point at which the Medical Building diverges formally and philosophically from the Larkin Building, to which its service towers, columns, and interwoven spandrels must otherwise be closely compared. Wright in 1903-4 manipulated the structure itself to create a spatial release from its tensions; Kahn in 1957-61 envisaged no such release. Again one is led to conclude that the central theme for Wright is psychic comfort; for Kahn, challenge. Wright, early in the century, deals in the optimism of expanding possibility; Kahn, toward its middle, in the severity of fate.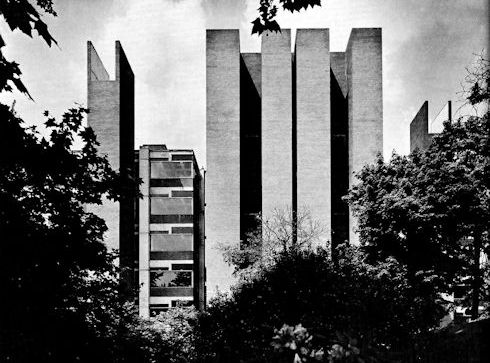 Richards Medical Research Building. Exterior stair towers (right and left) and four air-intake stacks from the south.