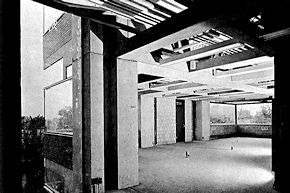 Richards Medical Research Building. Interior of typical laboratory studio before partitioning.
Brick spandrels are carried on the beams, and they and the glass are set tight up to the front plane of the structure; Kahn was still refusing to fiddle with the skin when it could not yet be wholly conceived of by him in terms of the structural and spatial order. He has since paid for this--though restrictions in the budget also had something to do with the problem--in the aluminum foil and other unpleasant devices the scientists have resorted to in order to cut down the sun's heat and glare, which is inadequately controlled by the blue-tinted glass panels under the beams. Kahn's building has also suffered, a bit like the Yale Art Gallery, from the flexibility of floor level which the structural system provides. That is to say, each level "wants to be" one space and would be noble beyond belief if so. This can be tested today only at the entrance, where the spandrels gape shark-like at the corners, the stairs spilled out below them, and the great open lobby stretches out into one of the few tragically grand spaces constructed in the modern world. (Such seems not inappropriate, since the human determination to best nature in order to stay alive in the teeth of the facts must probably come to be perceived as tragic in the classic meaning of the word; otherwise its murderous self-preservation is only embarrassing.) At best, the floors could have been divided into four laboratories at the beams, since the structure is cross-axial; at worst seven. Yet even this would have left, in terms of utility, the laboratories generally too small and too much area for circulation. At present the laboratories are mostly what Kahn himself has elsewhere called grab bags of space, divided at will by their occupants, often ignoring the structure as expediency dictates and spilling out into the halls. Nor are the utilities all in the towers; some are housed in the central mass and snake out to the laboratories in bewildering profusion. The service-served concept of spaces has clearly not achieved an integrated state.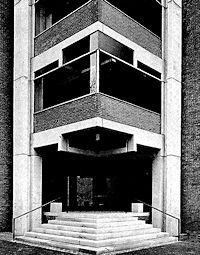 Richards Medical Research Building. Entrance.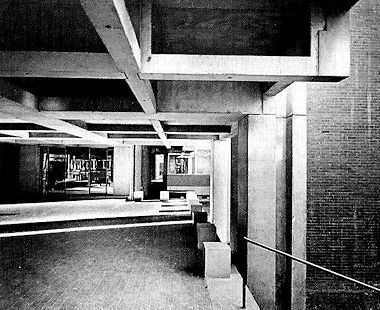 Richards Medical Research Building. Entrance portico under main laboratory tower.