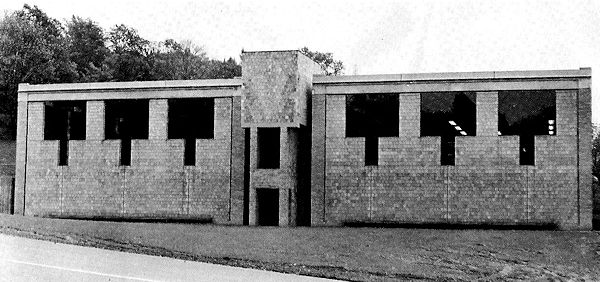 Tribune Review Publishing Company Building, Greenburg, Pennsylvnia, 1958-61. North side.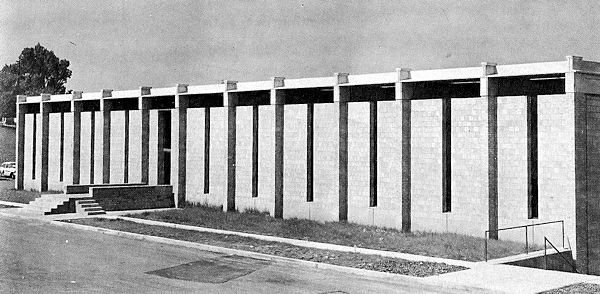 Tribune Review Building. East front.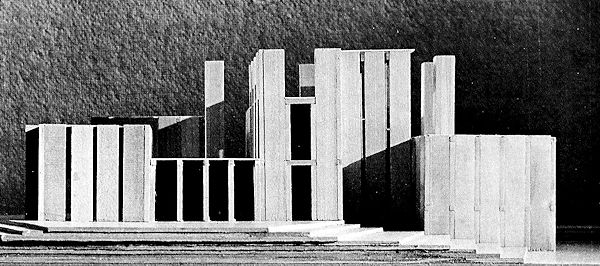 Morris House, Mt. Kisco, New York, project, 1958.
By the late fifties commissions began to come to Kahn in large numbers, until he was swamped with work. His project for the Morris House, of 1958 , is superficially closest to the Richards Laboratories and also recalls Wright, in this case the latter's Richard Lloyd Jones House of 1929. Both buildings have the ambiguity of scale that seems inherent in unrelievedly vertical piers and planes at domestic size, and both were the result of experiments with those structural and spatial modules which dominated their designers' thinking of the moment. The Tribune Review Publishing Building, of 1959-61, recalls the Morris project in its vertical piers and Le Corbusier remotely in the sculptural force of its side elevation, where the blocky cooling tower shakes itself loose from the sheathed spaces on both sides of it. Yet the window treatment here is purely Kahn's, and it is a prototype for that in much of his later work. In it the wall, with which, as noted earlier, Kahn had always experienced some major difficulties, now began to function for him in terms of light. Its non-bearing brick screen is cut by wide openings above eye level, with slots below, thereby flooding the interior with light but cutting the actual glare. The structure permits this, based as it is on a simple plan with a longitudinal spine which rises the full two-story height, carries the services, and divides the high interior space in two, so separating the quiet work areas from the printing-press side. Pre-stressed concrete beams span from this to piers of solid concrete brick, and there glazing is set between them. Below, planes of wall contiguous to the piers reduce the glass to a vertical slit while, above, a pre-cast concrete sunshade forms an integral cornice. Kahn has generally been an architect of the flat site, but here the building adjusts to the change of level, lowering where the ground falls away but civil on the street, though the front entrance walk gives pause.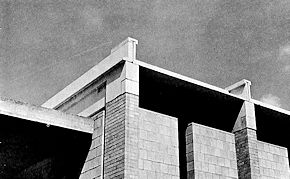 Tribune Review Building. East front, detail.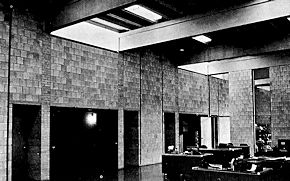 Tribune Review Building. Business office.