Market Street East is clearly still in the realm of Form, of the broad conception of Order and of Burnham's "Make no little plans." Without this large frame of reference nothing meaningful can be done in the small. It now remains to be seen how Kahn, if given the opportunity, might Design specific buildings and spaces within the area and so conceive new forms thereby. He is now seeking out such in his most recent drawings. On Independence Mall, however, at the intersection of the proposed Greenway to the Delaware, Edmund Bacon, Executive Director of the Philadelphia City Planning Commission, has already made Kahn's projected Mikveh Israel Synagogue the pivotal building of an urban space where two long axes, one vehicular, the other pedestrian, will have their joining. Design for the Synagogue has only begun. It constitutes an opportunity for Kahn long due, long awaited, and an appropriate one, since this was the proud Sephardic congregation of Haym Salomon: patriot, partisan, spy, condemned to death for the Revolution and, totally unrecompensed, one of its major financiers to the utter limit of his personal fortune. A financial genius, he died in 1785, no richer than Kahn was born.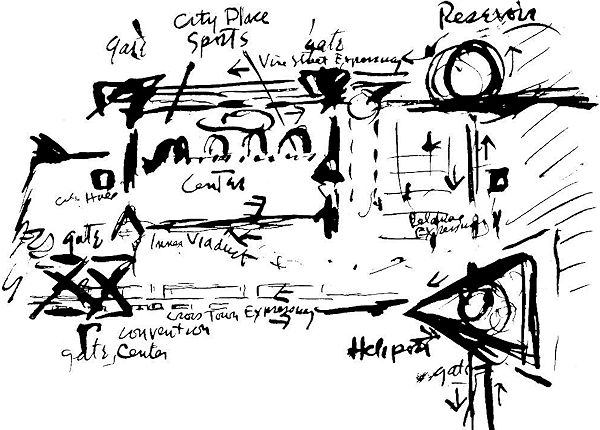 Market Street East. Sketch plan.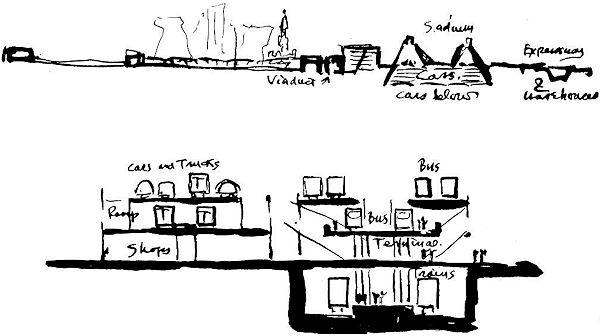 Market Street East. Sections.