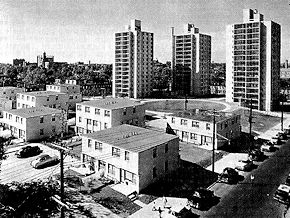 Louis I. Kahn in association with Kenneth Day and Louis McAllister. Mill Creek Housing Project I, Philadelphia, 1952-53.
Kahn had been talking about Order for some years, first in terms of small crystals, and his developing thoughts of the mid-fifties about Order and Design were published in Perspecta in 1955 and are reprinted at the back of this book. They state his thinking of that period better than I could paraphrase it here. He soon came to believe that in allowing himself to create a single wide span with few columns in the Art Gallery he had shown inadequate recognition of the Order intrinsic to the problem, and in Perspecta, 4, of 1957, he published a lyrical essay on "the thoughtful making of spaces," in which the column figured largely: "A column should still be regarded as a great event in the making of space. Too often it appears as but a post or prop." In 1952-53, directly after the Art Gallery, the column had already begun to figure for Kahn in the highrise towers of his Mill Creek I Housing Project for Philadelphia. There they recalled those of the Philadelphia Saving Fund Society Building, while the column-like corner articulations of the low blocks can remind us of Hugo Haering's housing at the Vienna Werkbund of 1932, published by Bauer in 1934. (Mill Creek I was concurrent with a beautiful planning scheme for the city of Philadelphia which will be discussed later with Kahn's subsequent developments from it.) This first project as built was still not Kahn entirely mature, though the space defined on the plateau between the low houses and the towers is as splendid as anything imagined earlier at the Beaux-Arts for exiled Balkan monarchs. But in the project for the Adath Jeshurun Synagogue in Elkins Park [sic]*, of 1954, which would have stood fairly close to Wright's later "mountain of light," the column began to come fully into its own. It was grouped in touching clusters on a triangular plan to house the stairs, support the roof, flourish behind the rabbi, and create small spaces at the sides and a grand space in the center. Kahn said, "It is what the space wants to be. A place to assemble under a tree." He might also have said: "for ten men or a thousand."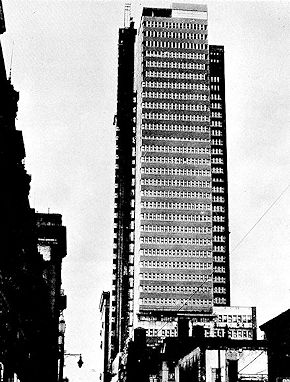 Howe and Lescaze. Philadelphia Saving Fund Society Building, Philadelphia, 1930-32. While under construction.